Inside account reveal Labour MPs' shocking attacks on Jeremy Corbyn at PLP meeting
The Labour leader is expected to lose a no confidence vote in his leadership on Tuesday.
A large group of MPs launched a scathing attack on Jeremy Corbyn inside an extraordinary meeting of the Parliamentary Labour Party in the House of Commons as his leadership of the party comes under increasing pressure.
His allies are resigned to losing a no-confidence vote in his leadership on Tuesday (28 June) as Labour rebels prepare a formal challenge backed by 50 MPs in an attempt to topple him.
But as Corbyn's supporters amassed outside Westminster for a protest arranged by Momentum, an inside account published by Politico reveals that the Labour leader "fought for his political life" on Monday.
According to the news website, which published a comment-by-comment account of the PLP meeting, names like Alan Johnson, Margaret Hodge, Chris Bryant, Ian Murray, Helen Goodman, Ivan Lewis, Clive Efford and Bridget Phillipson took turns to lambast Corbyn.
Despite winning the Labour leadership just 10 months ago with almost 60% of more than 400,000 votes cast, his tenure is looking increasingly fragile with 43 resignations, including many front benchers and shadow cabinet members.
In what is seen as a coup months in the planning, a motion of no confidence was formally moved against the Islington north MP. An estimated 3,000 Corbyn supporters chanted "Tories out, Corbyn in" outside Parliament.
Johnson, who sent an email to Labour staff criticising Corbyn's leadership according to The Spectator, said: "I fought the [EU referendum] campaign and I take my responsibility, but you've got to take yours. Your office did not even turn up for the weekly meetings."
Ian Murray, Edinburgh South, said: "It's not about you Jeremy. You're not just letting the party down, but the whole country." Bridget Phillipson, Houghton and Sunderland South said: "You're not fit to be prime minister and you've got to resign."
Margaret Hodge, Barking & Dagenham added: "At this moment of grave danger, we simply cannot allow the party to flounder, become utterly irrelevant to the political debate and disintegrate into a second-rate pressure group. Make no mistake — unless we listen to our voters, our party faces political oblivion."
After Corbyn was mobbed at Westminster his staunch ally John McDonnell, and shadow chancellor told the crowd: "We're not going anywhere," he declared to huge cheers. Corbyn took to the stage next, equally defiant."
Corbyn said at the rally: "Friends. Straight after we won the leadership election last year we came to this very same spot to speak up for the rights of refugees to live in our society," he begins. "And one of the horrible disfigurements of our society is racism, intolerance ... and sadly this has increased in the last few days. Can we agree we are going to unite as one society to oppose racism in any form."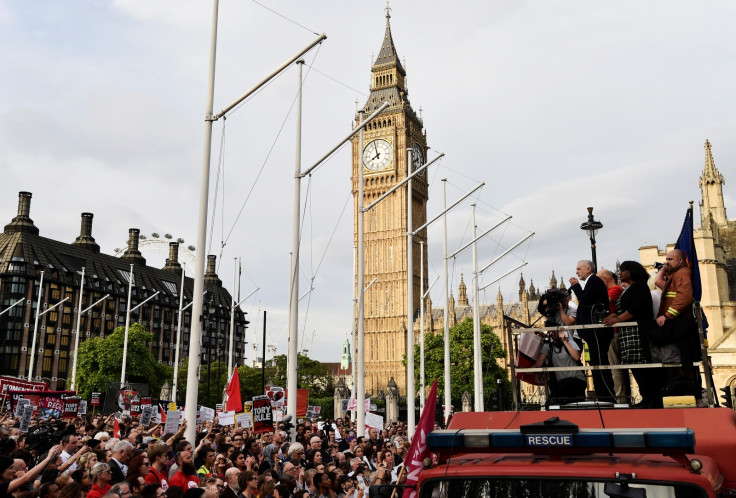 © Copyright IBTimes 2023. All rights reserved.