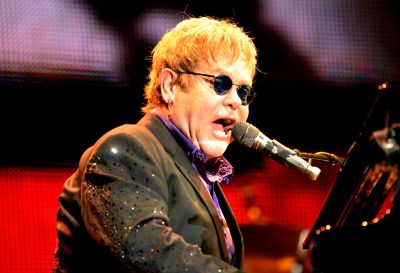 Sir Elton John was "very upset" about his highly-publicised fallout with the late George Michael. The British pop stars were embroiled in a major feud throughout the noughties over Michael's alleged drug use. Now several years after their reconciliation, veteran DJ Paul Gambaccini reveals how John really felt about their row.
BBC Radio DJ Gambaccini, who was mutual friends with both singers, says that John, 70, was particularly affected by his feud with Michael, who died in December 2016. Speaking to The Mirror, Gambaccini said: "Elton was very upset, we exchanged emails. I thought [Michael] would have come back from being a stoner. Logic says: 'OK, lets step back'. But instead he went on. That involved the new people in his life at the time."
Fortunately, the Don't Let The Sun Come Down On Me collaborators were able to reconcile before Michael's untimely death on Christmas Day (25 December). As Gambaccini reflects on one of the biggest feuds in pop, IBTimes UK takes a look back at where the fallout began and how Michael and John mended their close friendship.
2004
In 2004, John expressed his concerns about Michael's drug use in an interview and claimed the Careless Whisper singer was in a "strange place", adding he believed there was a "deep-rooted unhappiness in his life". John also described Michael's fifth and final album Patience as "disappointing".
Several weeks later, Michael fired back in an open letter to his former friend published in Heat magazine, writing: "Elton John knows very little about George Michael, and that's a fact.... to this day, most of what Elton thinks he knows about my life is pretty much limited to the gossip he hears on what you would call the 'gay grapevine' which, as you can imagine, is lovely stuff indeed. Other than that, he knows that I don't like to tour, that I smoke too much pot, and that my albums still have a habit of going to number one."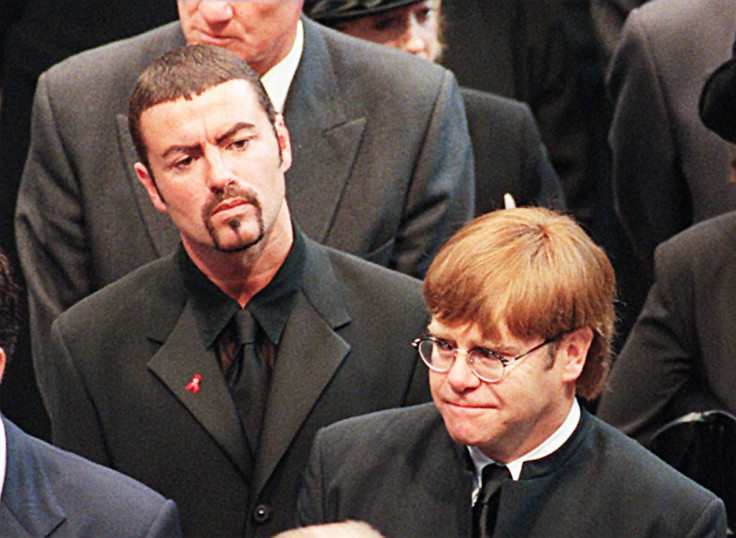 2006
Michael blames John for the media's negative portrayal of his personal life, telling talk show Michael Parkinson: "The trajectory of my particular soap opera launched from that statement Elton made about 18 months ago when Elton hadn't seen me for years. The subtext to it is he was all right before he came out and now he lives this depraved gay life and he's miserable and fat... Elton said he thought I was really miserable for some reason. From that point on, I've been trying to prove that I'm not."
2009
John's husband David Furnish revealed his own fears about Michael's lifestyle, telling BBC Radio 5 Live: "The difficult thing for Elton and me is a lot of George's friends keep calling us saying, 'You have to do something, George is in a bad way, he's in a bad state'. We're only reacting to what his close friends say to us." He added: "George has to want to help himself. If he wants help we're here for him. If he doesn't want help that's fine, that's his choice too."
Michael also fuelled the tension that year, stating: "He [John] will not be happy until I bang on his door in the middle of the night saying, 'Please, please, help me, Elton. Take me to rehab'. It's not going to happen... Elton just needs to shut his mouth and get on with his own life."
Listen to George Michael and Elton John's Don't Let The Sun Go Down On Me:
2011
Reports of a reconciliation between the musicians emerge with a source telling the Mail Online: "They have been seeing each other quite a lot. The feud is finally over. George and Elton are getting on brilliantly again and everybody is thrilled."
In 2011, George Michael performed at London's Royal Opera House on November 6, as part of a special benefit for the Sir Elton John AIDS Foundation. Confirming their reconciliation, John said in a statement about the charity gig: "George has been a patron of the Foundation since its inception and has been a much valued supporter over the years, as well as a dear friend. This is an incredible and generous gesture. I thank George from my heart for doing this. His is an amazing talent, and this is a fantastic gift he is making to people affected by HIV."
2017
In an interview on Apple Beats 1 Radio, John pays tribute to his longtime friend who died in December 2016. John said: "Not only was he a good friend, but he was probably one of the most brilliant songwriters this country's ever produced, and certainly one of the best vocalists ever. One of the best in the world."