Johnny Milano's photographs of members of the Ku Klux Klan in candid settings provide an intimate and behind-the-scenes look at a culture that still exists on the margins in America today, 150 years after the end of the Civil War.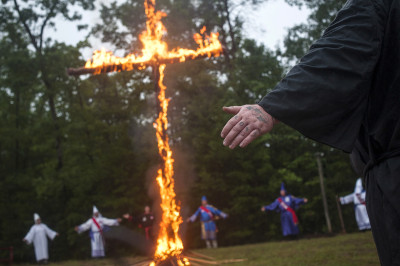 Milano started to research white power groups and their rise in popularity after the terrorist attacks in New York on September 11 2001. He reached out to the regional head of the National Socialist Movement, and was invited to photograph meetings where he came face to face with Ku Klux Klan members.
He travelled from state to state to cover rallies and cross-lighting ceremonies, which have come to symbolise the Klan.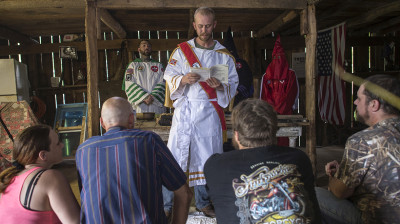 The Ku Klux Klan, which had about six million members in the 1920s, now has some 2,000 to 3,000 members nationally in about 72 chapters, or klaverns, according to the Southern Poverty Law Centre, an organisation that monitors extremist groups.
A Klan group plans to hold a pro-Confederate flag rally at South Carolina's capitol on 18 July. The Civil War-era flag and related monuments have become flashpoints after nine black men and women were gunned down at a historic church in Charleston.
The suspected shooter, Dylann Roof, a 21-year-old white man, had posed with a Confederate battle flag in photos posted on a website that displayed a racist manifesto attributed to him.
South Carolina removed the Confederate battle flag from the state capitol grounds on 10 July, relegating the divisive symbol to a museum.
The Loyal White Knights chapter of the Ku Klux Klan, based in Pelham, North Carolina, said it will rally at the South Carolina State House on 18 July.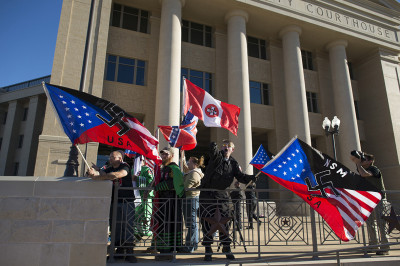 "We're standing up for the Confederacy," James Spears, the chapter's "great titan," said. He added speakers would address slavery, then the Klan will hold a cross-lighting, or cross-burning, ceremony on private property.