Ed Sheeran takes a trip down memory lane on his new single Castle On The Hill. A romantic ode to his home town of Framlingham, Suffolk, the 25-year-old singer recalls fond memories of his childhood and ponders the different paths his friends and family have embarked on as he shot to superstardom. It turns out the castle in question is not just a lyrical metaphor but actually a fascinating monument of history...
Castle On The Hill, set to appear on Sheeran's forthcoming third album, Divide, provides an intimate insight into the singer's childhood shenanigans from getting drunk with friends to watching the sunset from the hill.
Referring to the idyllic town, lyrics include: "Found my heart and broke it here/ Made friends and lost them through the years," and, "15 years old and smoking hand-rolled cigarettes/ Running from the law through the backfields and getting drunk with my friends".
The common theme is that all Sheeran's antics take place in and around Framlingham Castle, a stunning piece of history tucked away in Suffolk. So touched are they by Sheeran's tribute that staff at English Heritage have extended an invitation for the Thinking Out Loud singer to perform at the castle this summer.
Kirstie Horne, property manager for Framlingham Castle, told Diss Express: "Lots of people suspect the castle he refers to is Framlingham Castle – if it is we're delighted that he's drawn inspiration from the site. We'd love to invite Ed to come and perform at Framlingham this summer – we think the castle grounds are the perfect setting for a live performance of his new single. Our doors are always open if this is something he'd like to do."
As Sheeran opens the doors to his childhood, IBTimes UK looks inside the castle which has inspired his latest hit single.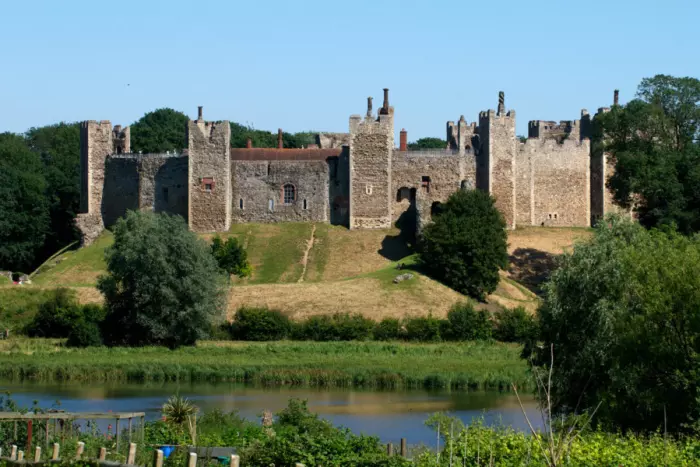 Facts about Framlingham Castle
Framlingham Castle was originally built in 1148 but was later restored.
In 1666, it was used to isolate victims of the plague and has been used for many other uses including a prison for Catholic priests, a school and equipment store.
Unlike most castles, Framlingham does not have a keep as it was thought the curtain wall and 13 towers would protect against attack.
Framlingham Castle featured in the plans to defend England in the case of an invasion during the Second World War.


Framlingham Castle, Suffolk has been used as a prison and to isolate victims of the plague

English Heritage

Henry VIII seized Framlingham for the crown.
Queen Mary Tudor declared Queen of England at castle in July 1533.
Framlingham may be aesthetically pleasing from the outside but much of its interior has been destroyed.
In December 2016, it was announced that the castle would undergo refurbishment to the tune of £1.2m ($1.5m). In hopes of improving the experience for visitors, Framlingham will have a new cafe, retail and exhibition areas.
Listen to Ed Sheeran's Castle On The Hill: