Instagram may soon sport a new look. The social media platform currently appears to be testing out a new black and white design layout, which some Instagram users have noted after updating their app.
The new design replaces Instagram's traditional blue and orange mixed design with a monochromatic and slightly leaner design, which indicates the app is finally taking steps to modernise itself.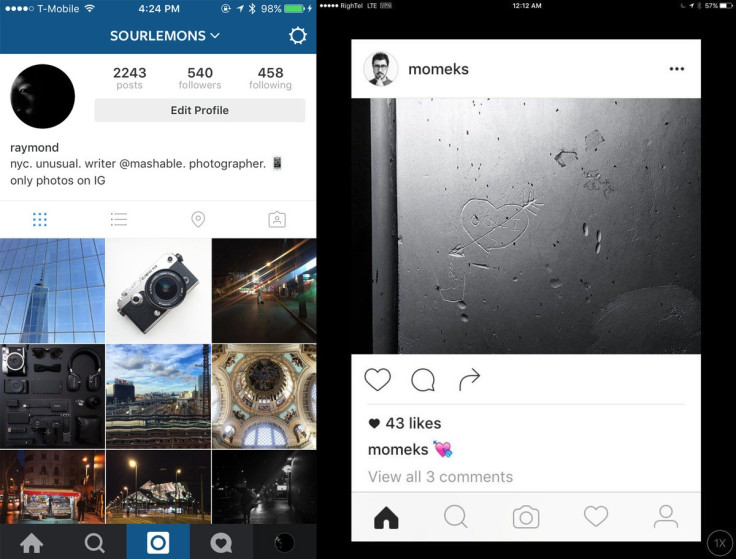 An Instagram spokesperson told Mashable: "We often test new experiences with a small percentage of the global community. This is a design test only."
The new design comes with more than just colour changes, as even the icons appear to have undergone a slight makeover. For instance, the central camera icon is no longer a circle embedded within a square, instead it now looks more like an actual authentic camera. The notification icon, which displayed a comment box housing a heart symbol, has been replaced with just a heart. Most notably, the icon for user profile is now simply an icon of the person, instead of the user's profile picture.
Although the overall look does appear to have a somewhat neoteric edge, it somehow falls short of the current characteristic design. It is still uncertain whether Instagram intends to expand the rollout of the new layout to users globally. However, the move does indicate that Instagram may be working on a large-scale overhaul of its features in the future.
The social media app recently expanded its 15 seconds video feature, allowing users to post videos that are up to 60 seconds in duration. The move reflected parent company Facebook's intentions to begin shifting Instagram's role from a merely picture-centric app to a more video focused platform.
Unlike its parent company, Instagram has been slow on the uptake when it comes to making major changes. New features or modifications are made fairly cautiously and even then they are extensively beta tested before being launched globally. In that respect, Instagram seems to be keeping up with tradition, having rolled out the current changes only to specific users for further feedback.