International Women's Day: London march attended by descendants of Emmeline Pankhurst
Emmeline Pankhurst's descendants to lead London march marking International Women's Day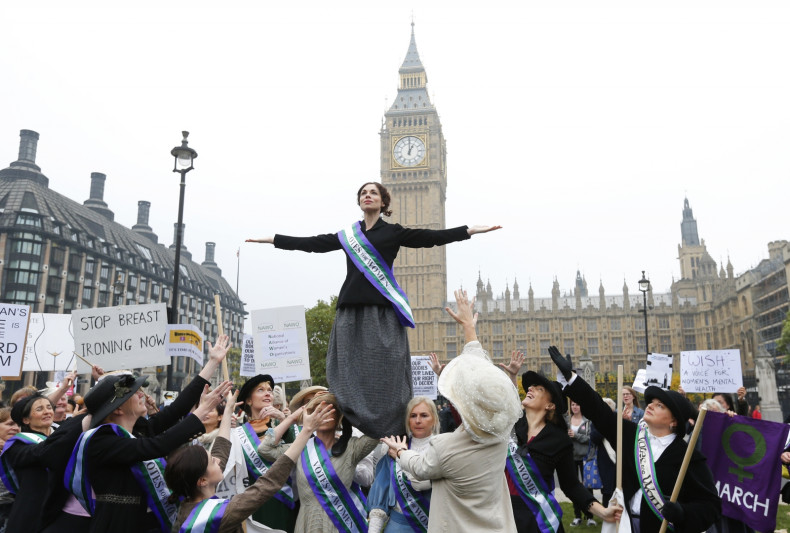 A march led by descendents of Emmeline Pankhurst, the suffragette leader took place in London to mark International Women's Day.
The two-mile rally aims to show solidarity with women worldwide. Singer and campaigner Annie Lennox, who will be at the march said: "Just a couple of months ago across British newsstands, the 'f-word' took pride of place in the bold headlines of four glossy magazine covers. A minor victory perhaps, but a definite indication of a change in attitudes.
"While I feel encouraged by this rising interest in the usage of the word feminism, I also realise that talk is cheap. It can be divisive and polarising, diverting us from the real issues at hand."
Doctor Helen Pankhurst, the great-granddaughter of Emmeline Pankhurst said there was still "much to do be done" in all walks of life for women.
"Make it Happen" is the theme for International Women's Day 2015 on Sunday. The march is also supporting the Care International "Walk In Her Shoes" campaign and will honour the suffragettes, in their "Votes for Women" battle which ended around 100 years ago.
Love the mix of feminists here today @gemcairn @HelenPankhurst @GemmaArterton to name just a few #wihs #IWD pic.twitter.com/sIRUxW7Q89

— CARE InternationalUK (@careintuk) March 8, 2015
This is why Pankhursts are pounding the streets of London today http://t.co/wEbMsL37TU #WIHS #InternationalWomensDay pic.twitter.com/nZCnjs5Pab

— Emma Barnett (@Emmabarnett) March 8, 2015
"I do not wish [women] to have power over men; but over themselves," ~ Mary Wollstonecraft #InternationalWomensDay

— Shadan (@shaddelito) March 8, 2015
Many of the participants will be dressed in Edwardian clothes with green, purple and white sashes – the suffragette colours.
"Our march, happening 60 days before the elections, is one way to demonstrate a sense of citizen engagement, to fight against cynicism and widespread abdication of political responsibility," Dr Helen Pankhurst wrote in the Telegraph.
"It's also to support women parliamentarians from both houses and across the party political spectrum who are trying to break the mould of male governance."
Also at the march will be Laura Bates of the Every Day Sexism Project, Lucy-Anne Homes of the No More Page 3 campaign and Sri Lankan women's rights campaigner Jayanthi Kuru-Utumpala; broadcasters and journalists Jane Garvey, Emma Barnett and Gemma Cairney; comedians Sandi Toskvig and Bridget Christie; the composer David Arnold, actress Gemma Arterton, singer Paloma Faith; and writers Dame Jacqueline Wilson and Melissa Benn.
The march also launches the annual CARE International's Walk In Her Shoes campaign. It marks a rallying cry for women and girls across the developing world who live in poverty, vulnerability and domestic servitude.
People in the UK are asked to walk 10,000 steps a day for one week in March and raise funds to assist with daily water collection.