Internet troll Peter Nunn, 33, has been jailed for 18 weeks for conducting a hate campaign against Labour MP Stella Creasy which included re-tweeting rape comments and branding her a witch.
Nunn's harassment of Creasy and feminist campaigner Caroline Criado-Perez started when the two women spearheaded a campaign calling for Jane Austen's picture to be put on the new £10 note.
Creasy, from Emersons Green in Bristol, tweeted to the MP: "Best way to rape a witch, try and drown her first then just when she's gagging for air that's when you enter." He later added: "If you can't threaten to rape a celebrity, what is the point in having them?"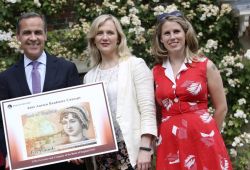 The vile messages had a serious impact on both women. Ms Creasy had to have a panic button installed at her home and Criado-Perez suffered physical effects including dizzy spells.
District Judge Elizabeth Roscoe at City of London Magistrates' Court found Nunn guilty of sending indecent, obscene or menacing messages earlier this month. Sentencing Nunn, a father-of-one and part-time delivery driver, she also imposed a restraining order meaning he will not be allowed to contact Creasy or Criado-Perez.
Nunn's lawyer said Nunn felt genuine remorse for the stress and anxiety he caused, but Judge Roscoe said he had been evasive. "It was really all about you and your opinions and what you wanted to do. Although we're only talking about six tweets, it was persistent. You moved account when one was blocked."
Speaking after sentence was passed Ms Creasy said: "Today's sentence for Peter Nunn is a step forward in recognising the distress and fear online harassment can cause."
Calling for better training for the police and justice system to deal with the increasing issue of internet abuse Creasy continued: "We need to send a clear message that it isn't for anyone to put up with being harassed via any medium - this is an old crime taking a new form online."