iOS 5.1.1 Untethered Jailbreak: iPhone 3GS and iPod Touch 3G Also Support Pod2g's Exploits
- Pod2g's New Exploits Finally Support iPhone 3GS and iPod Touch 3G; But Not Apple TV 3...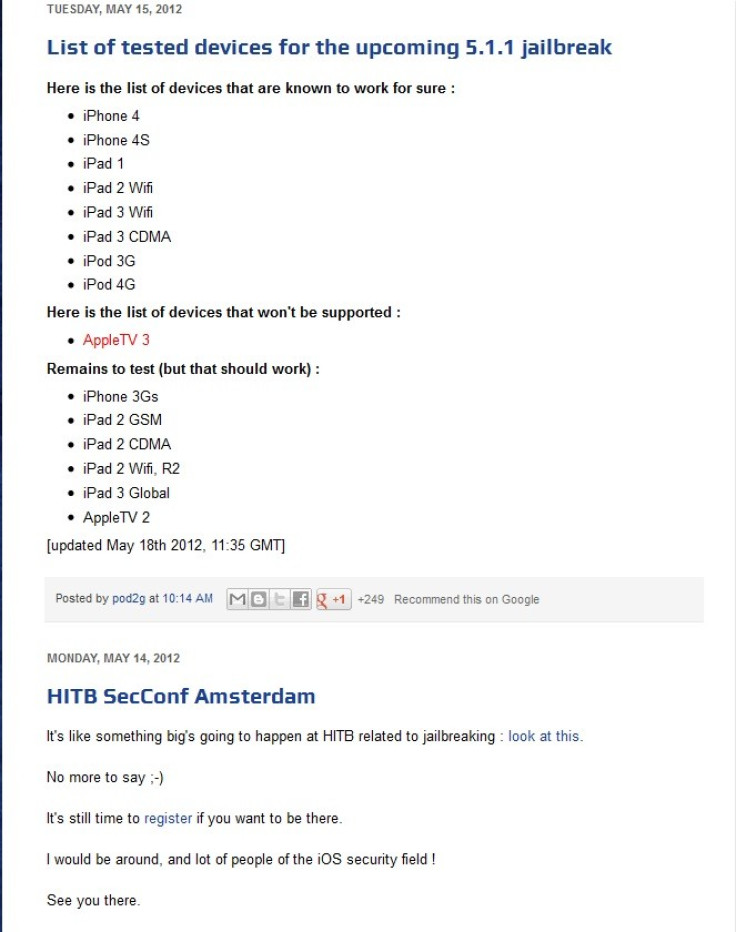 Pod2g, the French iOS hacker, continues his efforts to provide the community of jailbreakers with an untethered jailbreak for the iOS 5.1.1. Earlier this week, he revealed, in a blog post, the list of devices supported by the forthcoming untethered exploit. His latest update adds two more devices to that list.
The hacker earlier announced three devices - Apple TV 3, the iPhone 3GS and the iPod Touch 3G - as being incompatible with the jailbreak. The new update confirms compatibility for the latter two - the iPhone 3GS and the iPod Touch 3G.
"Good news. We've found a way through for iPod 3G and iPhone 3Gs users. Upcoming jailbreak will be compatible," Pod2g tweeted.
According to iDownloadblog, pod2g earlier indicated that kernel vulnerability used to create the untethered jailbreak on other devices apparently didn't work on the iPod Touch 3G and the iPhone 3GS.
There is as yet no positive news for the exploit for the Apple TV 3.
In addition, another update reveals that both the Wi-Fi and CDMA versions of the new third-generation iPad will get the untethered jailbreak on iOS 5.1.1, while that for the global version of the device is yet to be tested. The iPad 2 GSM/CDMA as well as the R2 of the Wi-Fi model also join the list of untested devices. Although the hacker hasn't provided any details on how he eventually verified the jailbreak compatibility with the devices, he does indicate more details are forthcoming.
For more clarification, here is the complete list of supported, unsupported and untested devices in relation to the forthcoming iOS 5.1.1 untethered jailbreak:
Supported and Tested Devices:
The iPhone 4
The iPhone 4S
The iPad 1
The iPad 2 Wifi
The iPad 3 Wifi
The iPad 3 CDMA
The iPod 3G
The iPod 4G
Untested but Should Work:
The iPhone 3Gs
The iPad 2 GSM
The iPad 2 CDMA
The iPad 2 Wifi, R2
The iPad 3 Global
Apple TV 2
Unsupported Devices:
© Copyright IBTimes 2023. All rights reserved.