While we eagerly await pod2g's release of an untethered jailbreak for iOS 5.1, the iPhone Dev Team has quietly updated Redsn0w to v0.9.10b7. The new update brings a plethora of new features including the Corona A5 untethered jailbreak for iPhone 4S and iPad 2 units that are still running on iOS 5.0.1. Although MuscleNerd, the front man of the iPhone Dev Team reportedly chose to keep silent by not announcing the release on Twitter, the new update found its way on their blog, according to Cydiahelp.
We may recall Redsn0w was not updated for iPhone 4S and iPad 2 to run the iOS 5.0.1 untethered jailbreak in January. Later, the iPhone-Dev team released CInject as a command line jailbreaking solution. Despite the flawless functionality of CInject, novice users found it really hard to jailbreak due to the complex set of commands involving the process. Then Absinthe succeeded in jailbreaking both iPhone 4S and iPad 2 on iOS 5.0.1.
What is New with the Redsn0w Update - 0.9.10b7?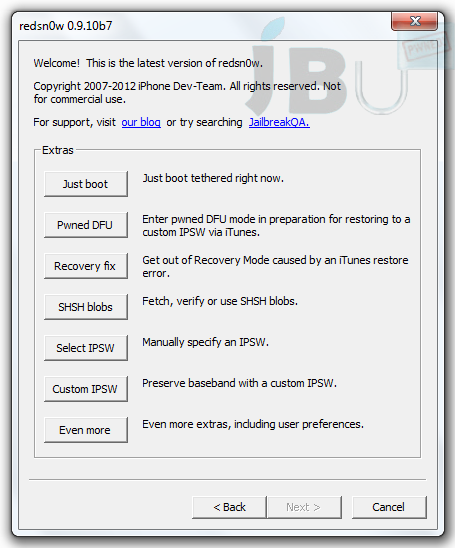 Redsn0w 0.9.10b7 includes the following new features:
Adds Corona A5 untethered jailbreak for iPhone4S and iPad 2 still running on 5.0.1.
Brings re-install functionality for the jailbreak for those who accidentally uninstalled or erased the untether.
When injecting an IPSW, it can now grab your blobs directly from Cydia.
It now reveals a lot more info about your device (for instance, whether your iPhone3G has the vulnerable baseband boot loader, or whether your iPhone3GS has the old exploitable BootROM).
In addition, the Dev Team also hinted they plan to add integrated restore support in Redsn0w, as an alternative to the iTunes restore process, reports iPhonehacks. This is definitely a must-have feature as it prevents annoying errors when you try to restore using custom iOS firmware files over iTunes.
Nevertheless, it is to be noted that Redsn0w 0.9.10b7 supports only tethered jailbreak for iPhone 4, iPhone 3GS, iPad 1 and third-gen iPod Touch on iOS 5.1. That means you have to connect your iOS device to the computer on every reboot. So, it is advisable not to upgrade to iOS 5.1, if your iDevice is already running iOS 5.0.1. The reason being the latest iOS update does not include any major feature.
On the contrary, if you accidentally updated your iOS device to iOS 5.1, then you can use Redsn0w 0.9.10b7 to restore untethered functionality for your favourite iDevice. You can download RedSn0w 0.010.b7 for Mac using this linke and Windows from here.
Meanwhile, pod2g continues to make rapid progress in his quest for releasing an untethered jailbreak for iOS 5.1. For full official release notes on the new Redsn0w update, head over to the Dev Team Blog and follow the update number 2.
MUST READ: iOS 5.1 Untethered Jailbreak: Pod2g Makes Rapid Progress Breaking ASLR Puzzle, Release Seems Imminent
MUST READ: iOS 5.1 Untethered Jailbreak: New Status Update for iPhone 4S, iPad 2 and New iPad from Pod2g and Chpwn