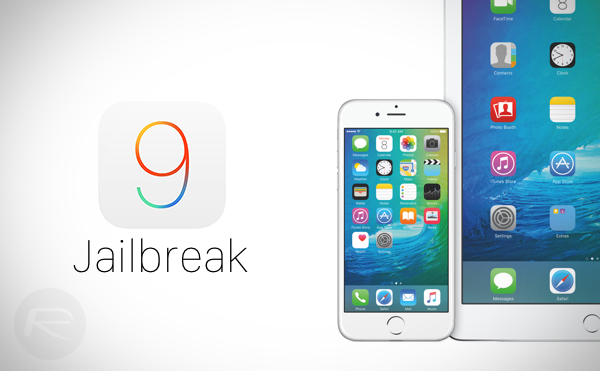 Apple recently rolled out its latest iteration of iOS software, the iOS 9, for a spate of devices including the newer iPhone 6s and iPhone 6s Plus, with a bunch of exciting new features and noteworthy improvements. On the downside, the iPhone maker has also patched up all known exploits used in earlier jailbreaks (iOS 8.4-8.4.1 jailbreak) with the release of iOS 9 Golden Master (GM) and the subsequent iOS 9 public release.
iOS 8.4 is the last iteration of Apple software which has been jailbroken on a public release, while claims of iOS 8.4.1 and iOS 9/9.0.1 jailbreaks point to work in progress. With the Pangu team and the renowned iOS hacker and developer, iH8sn0w, already demonstrating successful attempts at jailbreaking iOS 8.4.1 and iOS 9 in separate YouTube videos, it is almost certain that a functional jailbreak already exists.
iH8Sn0w has successfully demonstrated various levels of iOS 9 jailbreak process in his latest video comprising verbose boot, custom boot logos and code injection. As iOS 9.1 has already been seeded to testers, it is ascertained that TaiG and Pangu teams will directly release the iOS 9.1 jailbreak and skip any further work on jailbreaking iOS 9 or iOS 8.4.1.
There is still a glimmer of hope for an imminent jailbreak as iH8Sn0w is independently working on a fully-functional iOS 9 jailbreak as demonstrated in his recent YouTube video. To further strengthen this hope, the Zerodium (zero-day acquisition platform) team has recently announced a $1m bounty for successfully jailbreaking iOS 9 untethered (browser-based method).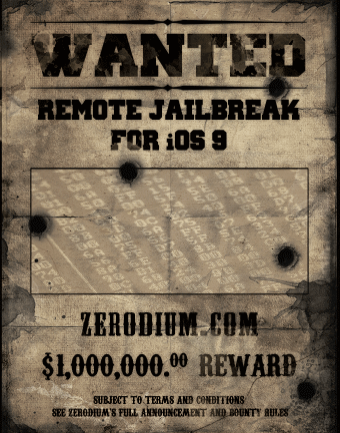 The firm proudly noted on its website that the offering would be "world's biggest zero-day bug bounty program" in history and the news has spread like wildfire via Reddit and other social networking sites:
Apple iOS, like all operating system, is often affected by critical security vulnerabilities, however due to the increasing number of security improvements and the effectiveness of exploit mitigations in place, Apple's iOS is currently the most secure mobile OS. But don't be fooled, secure does not mean unbreakable, it just means that iOS has currently the highest cost and complexity of vulnerability exploitation and here's where the Million Dollar iOS 9 Bug Bounty comes into play.

The Million Dollar iOS 9 Bug Bounty is tailored for experienced security researchers, reverse engineers, and jailbreak developers, and is an offer made by ZERODIUM to pay out a total of three million U.S. dollars ($3,000,000.00) in rewards for iOS exploits/jailbreaks.
[Source: Redmond Pie]