iOS 6.1.2 Untethered Jailbreak: Evasi0n v1.5.3 Release Will Fix Windows Crash-Bug [How to Install]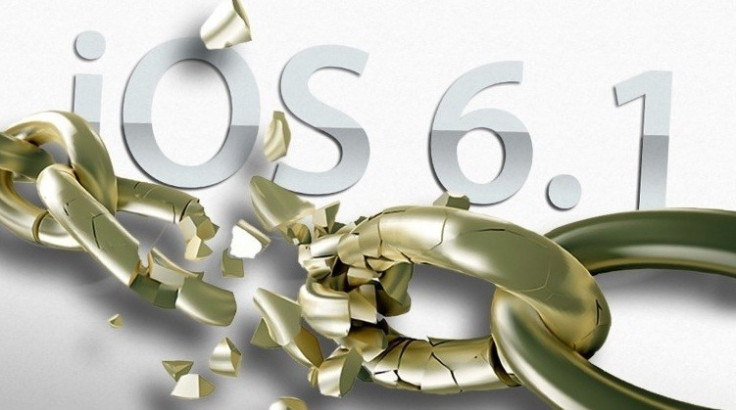 The Evad3rs Dream Team has released the latest version of iOS 6.1.2 untethered jailbreak, evasi0n v1.5.3, to fix a known crash during jailbreak process with Windows operating system. The affected iOS 6 device users can now download and install the new evasi0n update on all three platforms: Mac, Windows and Linux.
As iPhone hacks notes, the evasi0n tool developers had earlier released the minor update evasi0n v1.5.2 to address localisation needs for additional languages including French, German and Chinese along with updated Cydia package list. Users who have already jailbroken their iOS devices with evasi0n 1.5 need not install the evasi0n 1.5.2 update, unless they need support for aforementioned native languages.
Here is the complete change-log for all versions of the evasi0n jailbreak released by evad3rs Dream Team till date:
Version 1.5.3:
Fix bugs with the Windows version.
Version 1.5.2:
Added French translation.
Added Chinese translation.
Added German translation.
Updated bundled Cydia with localization fixes.
Updated included Cydia package list.
Version 1.5.1:
Updated included Cydia package list.
Version 1.5:
Improved boot-up time.
Updated included Cydia package list.
Version 1.4:
Version 1.3:
Support for 6.1.1 on the iPhone 4S.
Version 1.2
Disable OTA updates.
Correct timezone issue in evasi0n binary if client fails to correct it.
Version 1.1
prevent Weather app from appearing on iPads.
mitigated the long reboot issue.
fix issue with not working after connecting multiple iOS devices
fix blinking of the jailbreak instructions on OS X.
codesigned Mac app.
Version 1.0
Downloads
Download evasi0n 1.5.3 - [Mac, Windows, Linux]
Download evasi0n 1.5.2 - [Mac, Windows, Linux]
Here is the complete list of supported iOS devices for evasi0n 1.5.3 untethered jailbreak:
iPhone 5, iPhone 4S, iPhone 4, iPhone 3GS
iPad4,iPadmini, iPad 3, iPad 2
iPodtouch 5G,iPodtouch 4G
Affected Windows users can go ahead and install the updated evasi0n v1.5.3 on their iOS devices using our step-by-step guide given below (courtesy of iDownloadBlog).
Key Points to Note
Evasi0n 1.5.3 supports iOS 6, iOS 6.0.1, iOS 6.0.2, iOS 6.1.1 and iOS 6.1.2.
Ensure that iTunes is updatedto thelatest version.
If you are using Ultrasn0w to unlock ther iPhone, then avoid updating to iOS 6.1.2, as iPhone dev teams are yet to release Redsn0w or PwnageTool with support for iOS 6.x untethered jailbreak (enables the creation of custom iOS firmware file for updating to iOS 6.1.2 with baseband preservation).
Do not jailbreak the the iPhone just to pirate apps from the App Store.
Make sure that the device's passcode lock is disabled (Settings > General > Passcode Lock On > Turn Passcode Off), as it can interfere with the jailbreak process.
OTA updates have a known history of causing problems with jailbreaks. So, avoid OTA updates to iOS 6.1.2 at any cost and instead opt for the iTunes update.
How to Jailbreak iPhone 5 and Other iOS 6 Devices Using Evasi0n 1.5.3
Step 1: Copy the evasi0n app to the desktop and launch it.
Windows users: Launch the application as an Administrator. Right-click on evasi0n.exe and choose "Run as Administrator" option.
Step 2: After verifying that Passcode is disabled for the device, connect the iOS device to evasi0n via an USB cable plugged-in to the computer. Wait until evasi0n detects the device and confirms that iOS 6.1.2 is indeed running on it.
Step 3: Hit the jailbreak button and the jailbreak process begins. This process will take some time, as the device will reboot several times during the process.
Step 4: After a while, evasi0n prompts you to unlock the device (NOTE: Do not close the evasi0n application) and tap the Jailbreak icon on the device's Home screen once. Follow the onscreen instructions to tap the icon just once and let the device complete its processing.
Step 5: Evasi0n continues processing the jailbreak installation and finally prompts to tap the Exit button. Meanwhile, the iOS device will progress through the final stage of jailbreaking: Remounting, Injecting remount payload, Root filesystem successfully mounted, preparing final jailbreak data, injecting final jailbreak data and so on (the device may restart several times as it nears completion). So, leave the device alone.
Step 6: Wait for the confirmation message saying "Jailbreak Complete" on the evasi0n window and now the device will reboot to the evasi0n logo with brief messages pertaining to the status of the jailbreak.
NOTE: As iPhone Hacks notes, Patching Kernel and Initialising offsets steps can take as long as 18 minutes. So, do not interrupt the process.
Step 7: The device will reboot one final time and launch the Cydia app on its Home screen. Now, Cydia will run through initialisation process for about 1 to 2 minutes. Once the initialisation is complete, the device will respring again.
Step 8: Relaunch Cydia, choose Hacker, and enjoy the newly jailbroken iOS device running the latest iOS 6.1.2 onboard.
Troubleshooting: If the device gets stuck or freezes in the middle of any process, then you can safely restart the entire process or hardware reset the iOS device (press and hold Power and Home button until the device shuts down).
© Copyright IBTimes 2023. All rights reserved.