Veteran iOS hacker and developer winocm recently claimed access to iOS 6.1.3 untether exploit via binary, and later revealed an iPhone 4S running jailbroken iOS 6.1.3 with Cydia, in a demo video. The jailbreak community can now enjoy more good news, as the same hacker confirms via Twitter update with photos that he has successfully jailbroken iOS 6.1.4 on iPhone 5.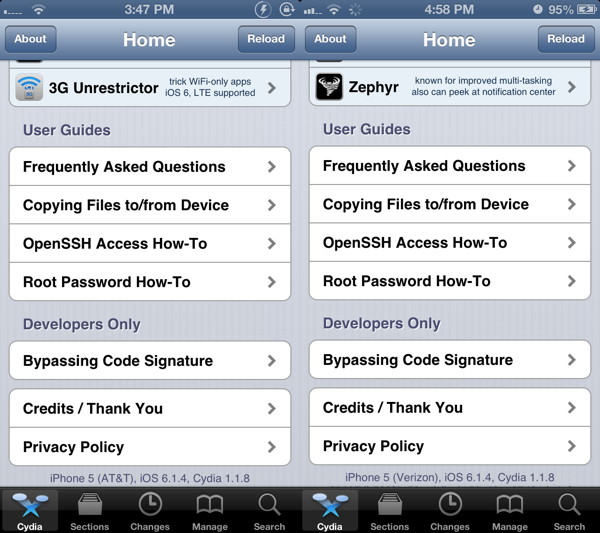 Given the latest turn of events in the jailbreak scene, a proper public release jailbreak for iOS 6.1.3/iOS 6.1.4 is definitely on the cards. All iOS device owners who lost access to working jailbreak following the iOS 6.1.3 update, can rest assured with latest untethered jailbreak progress, as winocm's work brings support for both GSM (AT&T) and CDMA (Verizon) versions of iPhone 5 running iOS 6.1.4 via public release jailbreak.
It is no surprise that the veteran hacker could develop two subsequent jailbreak releases (iOS 6.1.3 and iOS 6.1.4) in quick time, as the latest firmware uses the same exploits as its previous build. However, these exploits are reportedly incompatible with iOS 7 and hence there is no threat with Apple fixing all known exploits in its upcoming release.
Though there is still no word about the latest jailbreak release by winocm, the rapid progress achieved in the jailbreak scene points to an imminent public release for iOS 6.1.3/iOS 6.1.4. The only question left unanswered is if the next iOS untethered jailbreak would arrive before or after iOS 7 release.