A British-Iranian woman has been detained in an Iranian prison for more than two months for attempting to watch a men's volleyball match in the Iranian capital, Tehran.
Ghonche Ghavami, 25, was arrested after trying to enter the stadium where the Iranian national men's team was playing against Italy on 20 June.
Detained with more than a dozen other women, Ghavami was then released from custody but was arrested for a second time when she went back to collect her belongings a few days later.
Ghavami, a dual national who studied to be a lawyer in London, was then transferred to Iran's Evin jail, a prison notorious for hosting many political prisoners and journalists.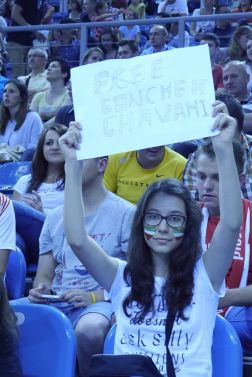 Ghavami's brother, Iman, said that Ghonche rang her family in tears, saying that she had been held in solitary confinement for 41 days.
"[The family] can barely hold themselves together," he told ITV News.
"They are torn apart – not just my parents but my grandparents, my uncles, everybody."
In response to the arrest of women attending matches, Iran's head of police, Esmail Ahmadi Moghadam, said: "In the current conditions, the mixing of men and women in stadiums is not in the public interest."
"The stance taken by religious scholars and the supreme leader remains unchanged, and as the enforcer of law, we cannot allow women to enter stadiums."
A Facebook campaign to free Ghavami has been initiated, gaining over 9,000 likes and creating protests at other volleyball matches in both Iran and around the world.
The British Foreign and Commonwealth Office said that it was "aware of reports" of Ghavami's imprisonment and was investigating the matter. Britain does not hold much diplomatic clout in the country due to strained relations.
Earlier this year, the head of Iran's prison service was replaced after allegations that political prisoners had been beaten by prison guards at Tehran's Evin jail. It was reported that 30 prisoners were injured by guards, four seriously, in an inspection.