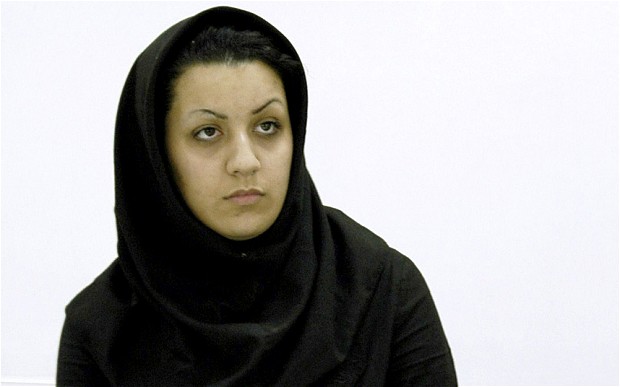 Iran has upheld its decision to execute Rayhaneh Jabbari, charged with the murder of a man who allegedly attempted to rape her.
Jabbari, 26, spent seven years in prison and her execution by hanging could be carried out as early as tomorrow (Tuesday, 30 September), according to local reports.
Jabbari was arrested in 2007, after she had killed a member of the Iranian Intelligence Services, Morteza Abdolali Sarbandi, who she said tried to rape her.
According to Rayhaneh, who worked as an interior designer, the two met in a coffee shop. The man approached her after he had overheard a work-related conversation she was having on the phone.
Interested in her work, the two arranged a meeting to discuss a possible renovation project on Sarbandi's office.
On the day of the meeting, Sarbandi picked up Jabbari in his car and they headed to what Jabbari thought was the man's office.
However, the man drove to a house. When the two entered the building, Sarbandi locked the door and allegedly tried to sexually assault Jabbari.
The two engaged in a scuffle which resulted in Jabbari stabbing the man, who bled to death.
On a table in the house were placed two glasses with a liquid, which lab analysis later revealed contained sedatives.
Jabbari was supposed to be executed last April; however the government postponed the execution.
Her case has sparked worldwide outrage, with nearly 190,000 people signing a petition to save the woman's life.
Iran's tough death sentences laws
Iran has some of the toughest capital punishment laws in the world. The country is also infamous for its high rates of executions, some carried out on children.
The country's penal code says minors can be subjected to a death sentence after they have reached puberty which, as stipulated by Sharia law and as specified in the 1991 Civil Code, is 15 lunar years for boys and 9 lunar years for girls (one lunar year can be between 354 to 365 days long).
Crimes punishable with a death sentence include cursing the Prophet, drug offences, murder, adultery, incest, rape, fornication, drinking alcohol, "sodomy", homosexual sex, "being at enmity with God" (mohareb), and "corruption on earth" (mofsed fil arz).