Donald Trump's executive order banning admission of citizens from seven Muslim-dominated countries remained at the centre of all talks at the Oscars. As a protest against the "inhumane law", Iranian director Asghar Farhadi skipped the biggest show of the year and even expressed his sentiments in a powerful message.
Farhadi's film The Salesman, which came into the limelight following the controversial travel ban, eventually won him his second Oscar in the best foreign film category.
While the 44-year-old filmmaker was not present at the ceremony, Iranian-American astronaut Anousheh Ansari picked the prestigious award for him.
Despite his absence, Farhadi sent a powerful message against the "climate of fanaticism" in the US to the movie fraternity and its mass audience.
"It's a great honor to be receiving this valuable award for the second time. I would like to thank the members of the academy, my crew in Iran, my producer, Amazon, and my fellow nominees," Ansari read from the Oscar winner's statement.
"I'm sorry I'm not with you tonight. My absence is out of respect for the people of my country and those of other six nations who have been disrespected by the inhumane law that bans entry of immigrants to the US.
"Dividing the world into the "us" and "our enemies" categories creates fear," she read. "A deceitful justification for aggression and war. These wars prevent democracy and human rights in countries which have themselves been victims of aggression."
Farhadi's concluding lines strongly defended the power of film to create "empathy".
"Filmmakers can turn their cameras to capture shared human qualities and break stereotypes of various nationalities and religions. They create empathy between us and others. An empathy which we need today more than ever."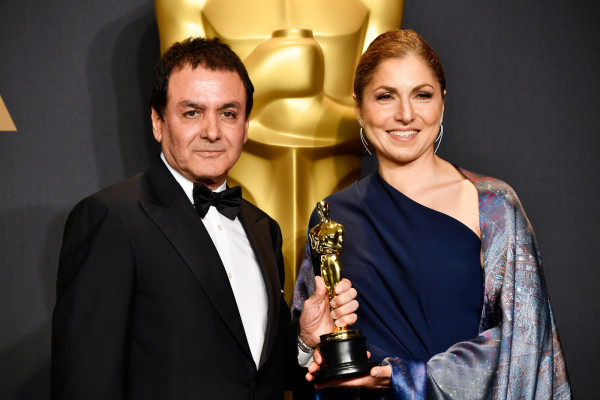 Explaining his "difficult" decision, Ansari told media, "I think he wanted to stand in solidarity with the rest of the people who have been subject to the travel ban and are not able to go see their friends and family members and share important moments in their lives."
Ansari was joined by Iranian-American Firouz Naderi, who is a former Nasa director, on the stage. After the win, Naderi made an interesting revelation about why the Oscar winner chose two people whose focus has been space to represent him at the event.
It is because "if you go away from the earth and look back at the earth you don't see the borders and the lines," he said.