Iraqi forces and Iranian-backed Shi'ite militias are fighting to retake the city of Tikrit from Islamic State (Isis) militants. Meanwhile, Kurdish forces have attacked IS positions around the oil-rich city of Kirkuk, backed by heavy air strikes from a US-led coalition.
Kurdish Peshmerga fighters advanced on several fronts to the west of Kirkuk, seizing villages in the Mala Abdullah and Tel Ward areas.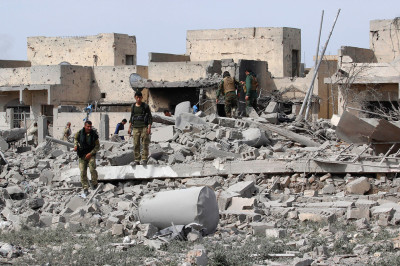 On Sunday 8 March Iraqi security forces and Shi'ite militia took control of the centre of Dawr, a town on the southern outskirts of Tikrit.
At the time of writing, they are still struggling to drive out militants entrenched in buildings in the western section of the town.
Officials said security forces and Shi'ite militia fighters had also captured about third of the village of Albu Ajil, south of Tikrit.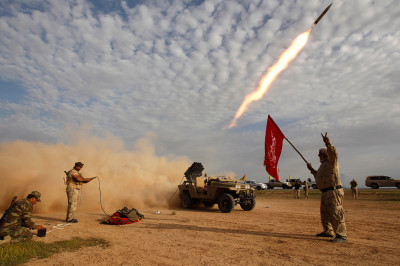 The campaign to retake Tikrit is the biggest offensive so far against Islamic State insurgents. If successful, it would be the first time the army and militia have recaptured a major city from the militants.
Progress in the offensive, which was launched a week ago, could also affect the timing and strategy for a wider offensive later this year to retake Mosul, the largest city under Islamic State control.
Tikrit is of special concern because it was the site of one of the Islamic State group's biggest massacres. Last summer Islamic State militants led hundreds of mainly Shi'ite Iraqi soldiers out of a base near Tikrit known as Camp Speicher, lined them up in front of trenches and shot them dead. They published pictures of the mass killing online, boasting about the atrocity.