Yazidi girls were snatched from their mothers, sold to IS fighters, tortured and even raped in public by more than two or three jihadists at a time before being freed by the Islamic State (Isis) in northern Iraq, according to harrowing details recounted after their release.
IS released 216 members of the Yazidi minority who were captured by the extremist group in the dramatic Sinjar offensive of July 2014 and brought them to the border with Kurdish-held Kirkuk, in Humayria village. Most of the hostages were old women and men, but the group also included some middle-aged women and 55 male and female children.
According to Tom Robinson of the Rise Foundation, which works with refugees in Kurdistan, the hostages were released after their freedom was paid for.
"This is happening quite a lot. A great deal of money has gone into buying back captured women and children," Robinson said.
The Yazidis are considered "devil worshippers" by the Sunni extremist group, and have lived in small communities scattered throughout northwest Iraq, northwest Syria and southeast Turkey.
Ziyad Shammo Khalaf, who works with the local NGO Yazda to offer assistance and first aid to the persecuted Yazidis, exclusively told IBTimes UK that after their kidnapping in Sinjar, the boys and girls were taken away by force from the mothers and "distributed among houses" in Mosul and Tal Afar, where they stayed for five months.
"They were treated very badly, they were forced to convert to Islam and pray, and say the Shahada [Islamic creed professing belief in the oneness of God and its prophet Mohammed]. They also gave them lectures about Islam," he said.
Some were treated in a good way, but others were beaten and tortured for refusing to comply with the jihadist group.
Raped in public
"The girls were dragged away from their mothers. If the mothers pleaded them not to give away their daughters, they were beaten and tortured," Shammo, who is also Chairman of the Relief Committee Within Initiative for Ezidis around the World said. The girls were also given as prizes to IS fighters and Arab tribes loyal to IS in Ramadi after a military victory, such as the one in Sinjar.
The activist struggles to find the words to describe the horrific experience the Yazidi girls had to endure under IS captivity.
"If you come and sit with the girls you will find different stories from girl to girl. A lot of them have been sold to ISIS fighters, they have been raped in [...] public, and by more than two or three people at a time," Shammo said. "They were tortured, beaten and subject to any type of violence."
Another NGO worker who is offering assistance to the Yazidis, and has asked to remain anonymous, told IBTimes UK that their mental state is "unstable" after repeated rape and torture.
Tens of thousands of Yazidis were forced to flee to Iraqi Kurdistan or were stranded on the nearby Mount Sinjar when the jihadist group stormed the mostly Yazidi villages in northern Iraq in July last year. Those who stayed were given a simple option: convert to Islam or die.
Peshmerga forces retook Sinjar earlier in December 2014, after a long siege by jihadists.
Slave market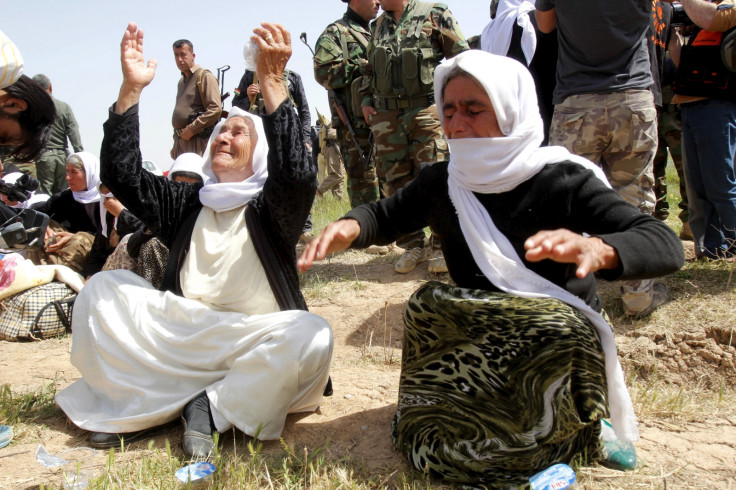 The Yazidi religion is a syncretic combination of Zoroastrianism with Sufi Islam, dating back to ancient Mesopotamia. They believe that God and seven angels protect the world. One of these angels, named Malak Tawus and believed to be embodied by a peacock on Earth, was thrown out of paradise for refusing to bow to Adam.
Muslim extremists view the figure as a "fallen angel" and consider Yazidis to be devil-worshippers and apostates.
Reports that hundreds of Yazidi women and girls from the Iraqi tribe were forced into slavery by IS emerged after their abduction. A video showing IS fighters laughing as they discuss the trade of Yazidi women emerged in November.
The jihadist group admitted in the English-language Dabiq magazine to enslaving and selling Yazidi women and children, claiming the horrifying trade is justifiable on religious grounds.