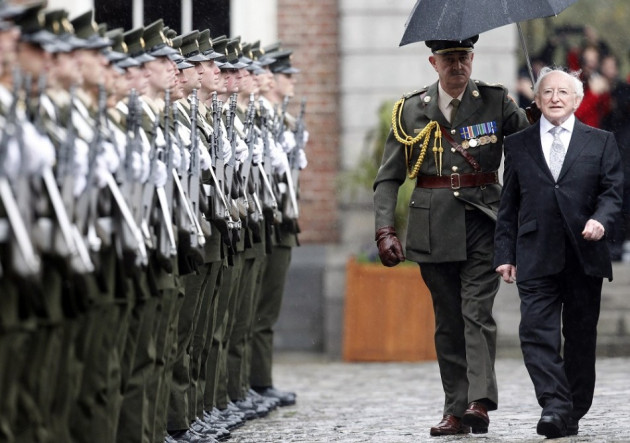 President Michael D. Higgins will be the first Irish head of state to make an official visit to Britain.
His visit next year comes less than three years after the Queen's visit to Dublin aimed at repairing a history of conflict.
Higgins has accepted an invitation from the Queen for him and his wife, Sabina, to stay at Windsor Castle on 8 April next year for three days, announced Buckingham Palace in a brief statement.
Full details surrounding the historic visit and the engagements to be carried out will not be released for some months.
However, some events to be expected are a state banquet to be attended by David Cameron and a major speech by Higgins on the Anglo-Irish relationship.
A spokesman for the British government described the president's planned visit as "a very significant event for our two countries" and that relations between the two countries "have never been stronger, or more settled".
"The range and depth of the bilateral co-operation between our two administrations is not matched in either Britain's or Ireland's relations with any other country," the spokesman continued.
The Queen's 2011 state visit to Ireland, the first by a British monarch since the Irish attained independence from London in 1921, was marked by overtures of remorse for Britain's bloody past in the Emerald Isle.
Her visit with Prince Philip was widely regarded as a diplomatic triumph.
Last year, the British monarch, 87, shook the hand of ex-IRA chief Martin McGuiness to look past a conflict that took the lives of thousands of soldiers and civilians.
Irish presidents, such as Mary Robinson and Mary McAleese have made regular visits to Britain, but this will be the first official state visit.
"This is a further demonstration of the warm and positive relationship that now exists between Ireland and the United Kingdom," Irish Prime Minister Enda Kenny said in a statement.
"The State Visit in April, following on the very successful visit to Ireland by Queen Elizabeth in 2011, will be a wonderful opportunity to deepen this even further."