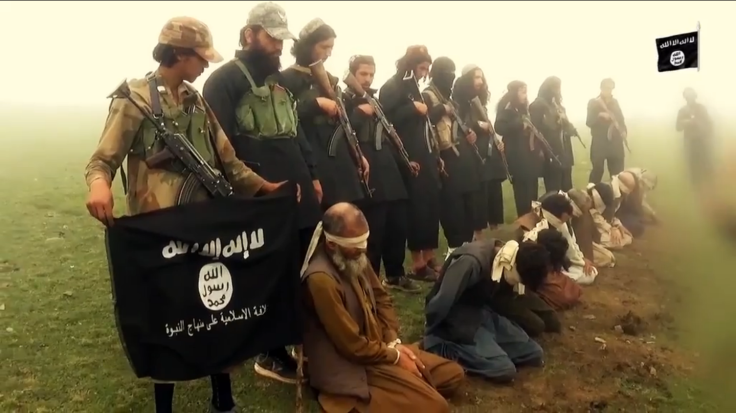 Fighters for the Islamic State have revealed a new, brutal method of executing their enemies in a video from an unknown location in Afghanistan. In the video, Isis militants are seen burying several explosives before leading a group of men towards the bombs.
The video, which features the jihadis riding in on horseback, shows two relatively young militants eagerly arriving to the undisclosed location wearing sleek-looking trainers under their long, black shalmar khameez.
As the two terrorists join their fellow militants, the ten prisoners are blindfolded before being led to the buried bombs and forced to kneel. The Daily Mail Online noted that many of the victims appear to be elderly in comparison to their young captors.
The ten prisoners are forced to kneel on top of the buried explosives, which have been carefully wired up by some of the Isis fighters. The video ends with the 10 victims blown to pieces as the terrorists watch on from a distance.
According to the Daily Mail Online, the video appeared on jihadi social media accounts on 9 August. The ten men, who are believed to be from the Shinwari tribe, were described as "apostates" and were accused of providing aid to the Taliban in the Afghan province of Nangarhar.
Some of the victims were also sentenced to death for allegedly helping the Afghan government in its efforts against the insurgency in the war-torn country.
The new video is just the latest example of the shocking methods used by Isis to murder innocent people. As previously reported by IBTimes UK, a recent video from the Islamic State's stronghold in Syria shows a child being forced to behead a Syrian regime army officer.
The young boy, no more than 10-years-old, is seen wearing camouflage and a black headdress. The victim is forced to lay on his stomach as the boy approaches him from behind, pulls his head back and beheads him. The boy is just one of many the Islamic State has used as child soldiers.