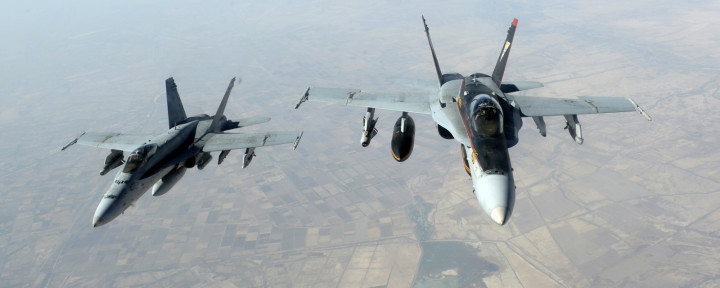 About 90% of air strikes against Isis (now known as Islamic State) militants in Iraq and Syria have been carried out by the US, with its Arab and Western coalition partners playing a marginal role in the operation, figures released by Washington show.
Since August 8, US air forces conducted 1,768 raids against the extremist group, while the remaining coalition member states carried out only 195, US defence officials told AFP.
An intense diplomatic effort was made by Washington to put together the 40-state coalition in order to stress the US was not alone in the fight against IS.
The active participation of five Arab nations - Bahrain, Jordan, Qatar, Saudi Arabia and the United Arab Emirates - was in particular said to be crucial.
Its importance was emphasised by reports that the son of the heir to the Saudi Arabian throne, Prince Khaled bin Salman, personally took part in bombing runs aboard a Tornado jet fighter.
France, Belgium, Britain, Denmark, the Netherlands and Australia have also pledged support and aircrafts to the operation.
But the figures revealed the US allies' contribution so far has been largely symbolic, although Pentagon officials insist their role is to grow over time.
Other data released this week showed the fight against IS has so far cost Washington $1.1bn (£684m).
According to the US Central Command, $62m alone has been spent in Navy air strikes and Tomahawk cruise missiles.