The brother of Britain's youngest convicted terrorist has fled to Syria to join up with the Islamic State (Isis), according to reports.
Hassan Munshi, 17, is said to have travelled to the war-torn country via Turkey with a friend after the pair disappeared from their homes in the West Yorkshire town of Dewsbury.
The families of the teenagers have not heard from them for several days and they cannot be reached on their mobile phones, the Times reported.
Police believe the pair boarded a Thomas Cook flight at Manchester Airport on 31 March to Dalaman in Turkey.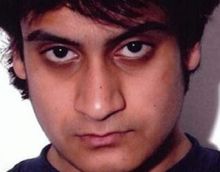 Hassan is the younger brother of Hammaad Munshi, who was just 16 when he was arrested in 2006 for plotting to murder non-Muslims. He was sentenced to two years in jail in 2008.
Hassan and his friend Talha Asmal are said to have used the Easter break as a "window of opportunity" to flee Britain to join up with the jihadist group. Head teachers at two London schools previously spoke about how they feared there would be an exodus of pupils leaving Britain over the Easter holidays to join up with IS.
A source close to the Munshi family said that they were in a state of "total disbelief" over reports their son has travelled to Syria, with Talha's father also said to be "broken and inconsolable".
West Yorkshire Police confirmed they have received a report that two 17-year-old boys from Dewsbury are believed to have travelled to Syria.
Assistant Chief Constable Mark Milsom said: "We are extremely concerned for the safety of these two boys and would urge anyone with information to come forward and speak to us.
"Our priority is for their safe return; their families are gravely worried about them and want them home."
He added: "Syria is an extremely dangerous place and the public will be aware of the dangers these boys may face. The choice of returning home from Syria is often taken away from those that come under the control of Islamic State, leaving their families in the UK devastated and with very few options to secure their safe return.
Kirklees Council chief executive Adrian Lythgo said: "We are deeply concerned for these young people and will continue to work in close partnership with the Counter Terrorism Unit, West Yorkshire Police, our communities and schools to prevent and eradicate any threats and concerns.
"We need to talk openly about these risks that are posed to our young people, and to work together to protect them. Communities and families can contact police about anyone they feel may be vulnerable. This includes anyone who is showing signs of becoming radicalised, who may have returned to the UK from Syria or may be planning to go to Syria or another conflict zone."
Hassan's brother was taking his GCSEs when he was arrested by counterterrorism units in Leeds in 2006. He was found to be in possession of documents detailing how to make napalm and notes on martyrdom were discovered under his bed.