Less than a week after terror attacks in Brussels left at least 31 dead, Isis has posted a new video in which it threatens to invade London and "fill your streets with blood." The threat comes as US Presidential candidate Donald Trump warns US citizens not to travel to the UK and Europe because of the threat of an attack by Islamic militants.
The new Isis video, called A Message to the Western Kafir [Disbelievers] from the Supporters of the Caliphate, is narrated in English by someone with a heavy accent. Intercut with scenes of the aftermath of the Brussels terror attack are graphics lifted from a computer game called World Of Tanks showing the Eiffel Tower being blown up, plus actual footage of militants removing crosses from churches in the Middle East.
"We will invade London, Brussels and Berlin, like we did in Paris before," says the voice. "We will come to you and terrify you everywhere. We will come after you from where you don't expect" and "fill your streets with blood."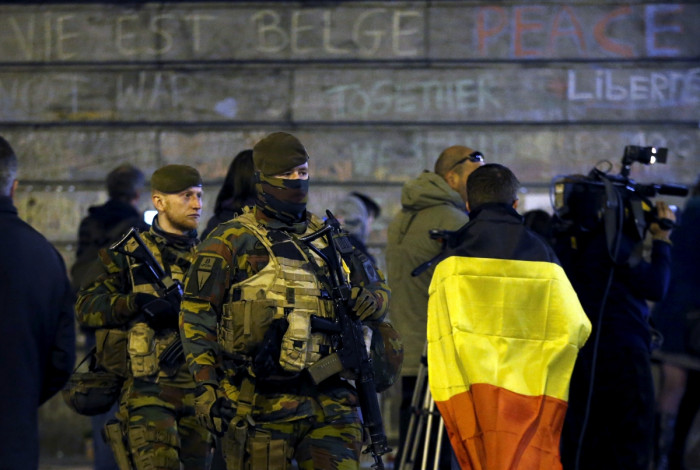 The video follows reports of an Isis poll asking supporters which country's colours they would like to see on the Eiffel Tower next – a reference to the colours of Belgium being beamed onto the famous landmark following the attacks on 22 March. The UK topped the poll, suggesting the UK is a target, and here senior counter-terrorism officials admit another attack will almost certainly take place but say no specific threat has been identified. The number of armed police is to be increased and an SAS squadron is thought to be prepared to reach any London landmark in seven minutes.
US Presidential hopeful Donald Trump has however caused an outcry by claiming it wasn't safe for US citizens to visit Europe . "I don't think Bruss ... England or I don't think that Europe is a safe place. No, I don't. I think there are a lot of problems that are very, very severe," he told ABC. Last year Trump said parts of London were "no go zones" where Muslims were "so radicalised that the police are afraid for their own lives."