The Islamic State (Isis) has executed a policeman who was attempting to flee the jihadists in a woman's dress by throwing him off a waterfall, according to reports. Pictures show a man in a dress being apprehended by the jihadists.
The prisoner is then seen in an orange jumpsuit before his dead body was pictured at the bottom of a ravine. He accused of being an Afghan police officer trying to flee the extremists in drag in Nangarhar, eastern Afghanistan.
It appears that he was shot in the head by a masked jihadi wearing camouflage fatigues before his body was pushed into the water below. The distressing images were published by the terrorist group on Sunday (24 July), but the killing cannot be independently verified by IBTimes UK.
A caption that accompanied the photo report read: "Implementation of the Hadd of Allah, on one of the elements of the apostate police after his arrest during an earlier attack in Kot district of Nangarhar."
"Hadd" is a punishment laid out in the Quran and prescribed by god in strict Islamic sharia law. It is meted out for crimes considered to be against Allah and often refers to the killing of an apostate.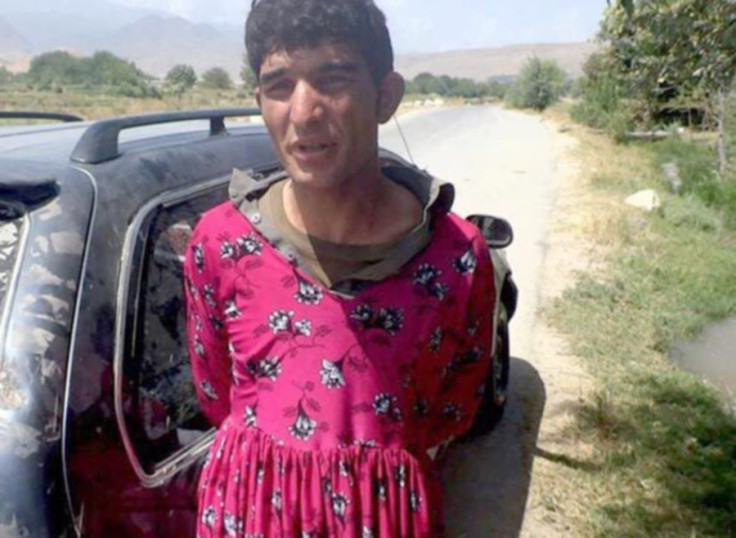 IS (Daesh) has carried out hundreds of brutal killings against people accused of apostasy, or the renunciation of their Islamic faith.

On Saturday (23 July), at least 80 people were killed and 231 others wounded following a blast in Kabul. IS later claimed responsibility for the deadly attack which ripped through the capital city as thousands of people from the Shiite Hazara minority protested to demand changes to the route of a proposed multi-million dollar power line.