Isis: Islamic State militants publicly destroy smuggled Palmyran statues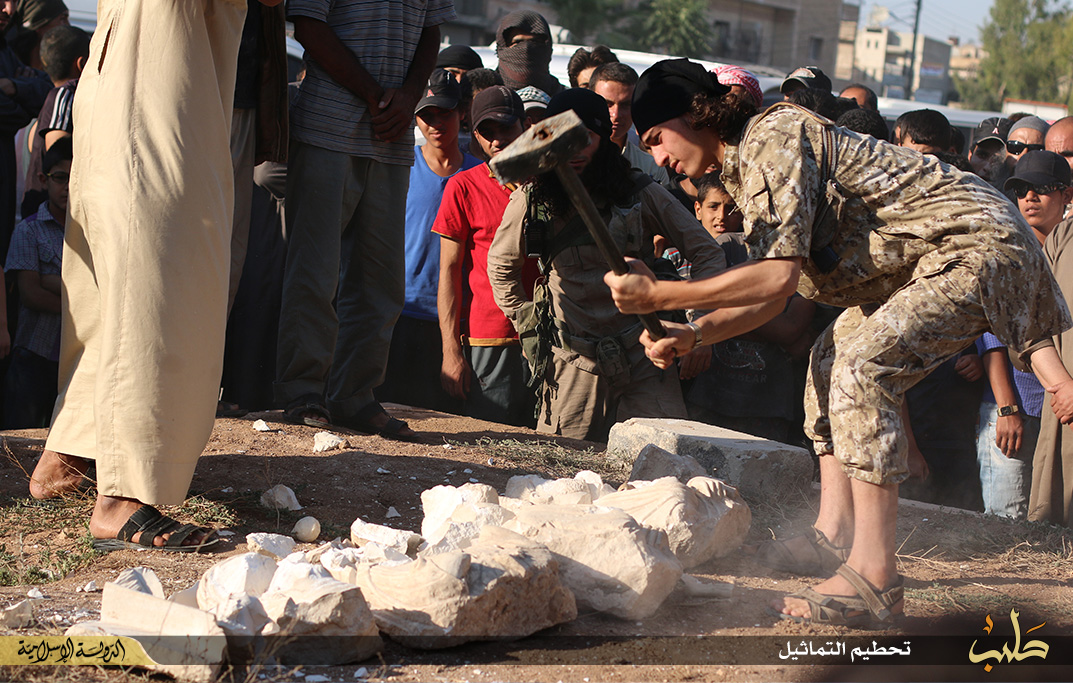 Islamic State (Isis) has published pictures of half a dozen statues smuggled from the ancient city of Palmyra (Tadmur) being hammered into pieces by IS militants in front of a crowd in the Aleppo province.
A photo report published on the group's Wilayat Homs media account entitled Expropriating A Group Of Smuggled Statues And Destroying Them shows IS fighters smashing the statues and reducing them to dust in the city of Manbij, in Aleppo governorate, as a group of people watches.
Among the smuggled statues is an effigy of Zenobia, the third-century queen of the Palmyrene Empire in Syria, who led a famous revolt against the Roman Empire.
"With thanks to Allah, Isis groups spread throughout the province have managed to stop a man who had in his possession a group of smuggled statues from Tadmur [Palmyra in Arabic] in the Homs province," IS said in the site accompanying the pictures.
"He was then taken to the Islamic court in the town of Manbaj where it was ruled that the smuggler was disciplined to the legal limits according to Islamic law, and the statues were destroyed, with thanks to God before and after."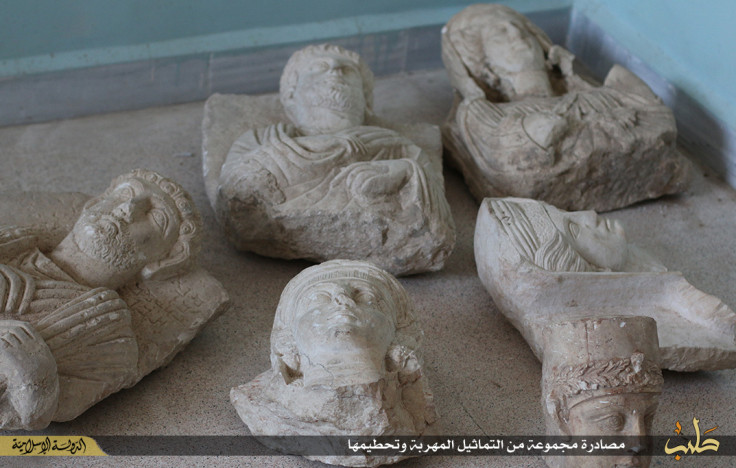 Palmyra statues prior to their destruction
Syrian antiquities director Maamoun Abdulkarim confirmed to IBTimes UK that "the statues are Palmyran art" but added that he is unsure whether they are original or replicas.
"We know they will destroy all the statues in their hands, it's part of their ideology," he said.
"There are hundreds of similar statutes in Damascus, after they have been evacuated from Palmyra's national museum. To prove the authenticity we would need to examine them in person.
"I'm sure that if Palmyra stays under Isis we'll see a lot more of those pictures."
The jihadist group seized Palmyra in May, raising fears it would destroy the 2,000-year-old world heritage site. In a recent development, the extremist group laid mines around the archeological site.
The group released a statement on 27 May claiming it would preserve Palmyra's historical monuments and the ruins but "pulverise statues that the miscreants used to pray for".
In June, IS reportedly blew up two Muslim shrines in Palmyra because considered against their beliefs.
© Copyright IBTimes 2023. All rights reserved.