The Japanese government have reported that they are trying to determine the authenticity of a video which purportedly shows the killing of hostage Kenji Goto.
The beheading video was released by Islamic State on Saturday (31 January)evening.
The victim is wearing an orange jumpsuit in the 1miniute footage titled 'A Message to the Government of Japan.' The murderer, who spoke with a British accent, is believed to be Jihadi John.
He delivers a scripted message to the camera saying: "To the Japanese government: You, like your foolish allies in the Satanic coalition, have yet to understand that we, by Allah's grace, are an Islamic Caliphate with authority and power, an entire army thirsty for your blood.
"(Japanese Prime Minister Shinzo) Abe, because of your reckless decision to take part in an unwinnable war, this knife will not only slaughter Kenji, but will also carry on and cause carnage wherever your people are found."
He finished with the chilling message: "So let the nightmare for Japan begin.'
The killer then lowers his knife and the footage goes black, as is common in ISIS propaganda films. When the footage begins again Mr Goto's body is shown lying on the desert floor.
Reacting to the video, US National Security Council spokeswoman Bernadette Meehan said: "We have seen the video purporting to show that Japanese citizen Kenji Goto has been murdered by the terrorist group ISIL [IS].
"We are working to confirm its authenticity. The United States strongly condemns ISIL's actions and we call for the immediate release of all remaining hostages. We stand in solidarity with our ally Japan."
Mr Goto, 47, who is an experienced war journalist, went into Syria in October in the hope of rescuing another Japanese hostage, Haruna Yukawa, an eccentric self-styled security contractor, who had been kidnapped by the brutal Islamist group two months earlier.
Earlier this month IS released a video of Mr Goto and Mr Yukawa demanding a $200m (£132m) ransom in return for Goto and Yukawa's lives. Yukawa was executed last weekend in a video which was confirmed as genuine by Japan's Prime Minister Shinzo Abe.
Kenji Goto then appeared in another short Isis video, appealing to the Jordanian government to release Sajida al-Rishawi, an Iraqi woman facing the death penalty for the 2005 bombings that killed 60 people at hotels in the Arab Kingdom, or he will be executed along with a captured pilot from Jordan's air force.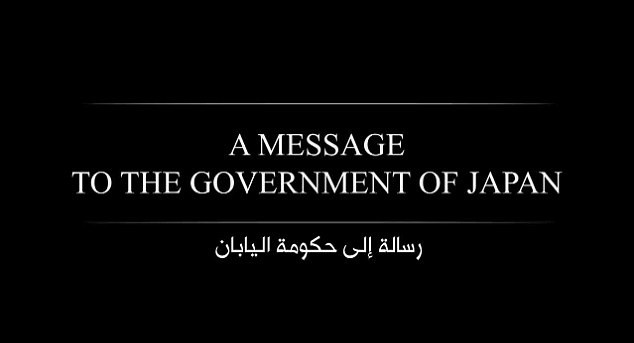 In the video he said: "I've been told this is my last message, and I've also been told that the barrier obstructing my freedom is just the Jordanian government delaying the handover of Sajida [al-Rishawi]."
"Time is running very short. It is me for her. Any more delays from the Jordanian government will mean they're responsible for the death of their pilot which will then be followed by mine. I only have 24 hours left to live. And the pilot has even less," he said.
Goto's mother Junko Ishido pleaded with the Islamist militants, to spare the life of her son. "Kenji is not an enemy of the Islamic State. Please free him," she said.
In a televised statement, Prime Minister Shinzo Abe strongly condemned the killing of Mr Yukawa as "an outrageous and unforgivable act." He added: "We strongly demand the prompt release of the remaining hostage. I have a strong sense of anger," he added before reiterating that Japan "will not give in to terrorism."
On Saturday (31 January), Japan's deputy foreign minister Yasuhide Nakayama said there was a "state of deadlock" in negotiations to release of Mr Goto.
If confirmed, Mr. Goto's death will be the latest in a growing list of foreign hostages killed by Jihadi John which includes Haruna Yukawa, British aid workers David Haines and Alan Henning, American journalists James Foley and Steven Sotloff, and aid worker Peter Kassig.