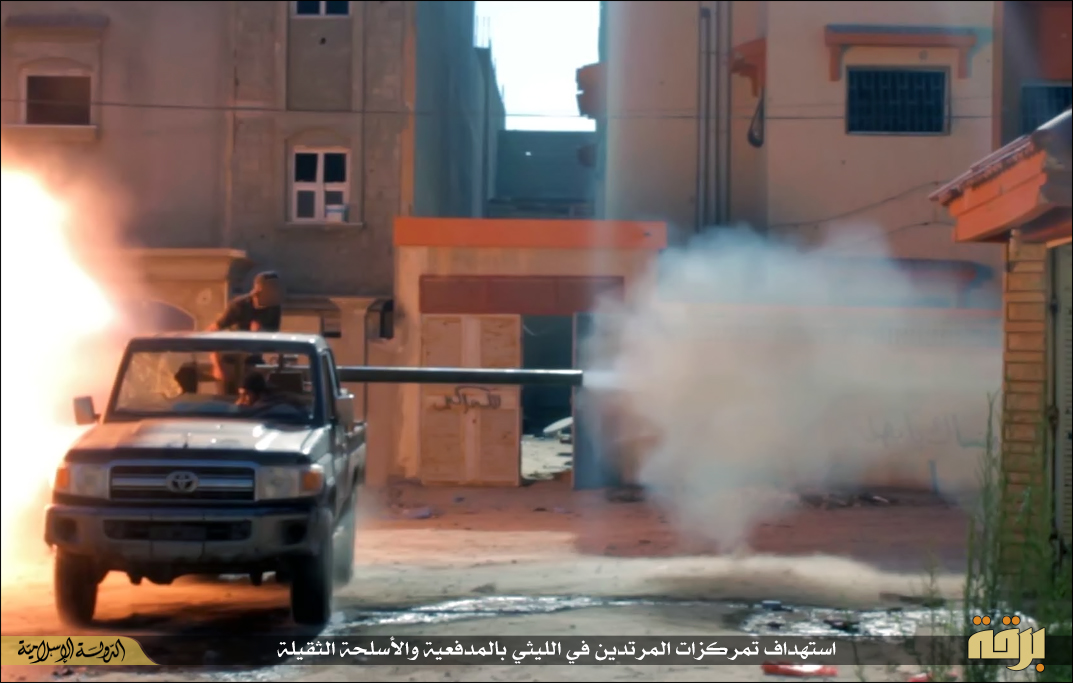 The offshoot of the so-called Islamic State (Isis) in Libya has released pictures of its fighters battling the Libyan army in Benghazi, as seven more civilians and soldiers are reported to have been killed in street fighting.
The images, posted on websites sympathetic to the militant group, show the fighters dressed in sand coloured clothes, some of them wearing black face masks.
The sites claim the pictures are taken within Benghazi's Laithi district, an area held by a coalition of Islamist militias in the city fighting for Benghazi Revolutionary Council.
In other shots, the armed men with the "Cyrenaica State" branch of IS are seen firing anti-aircraft guns and other heavy weapons fixed on to the back of pick-up trucks.
The publication of the propaganda coincides with a recent upswing in violence in Benghazi after Islamist forces opposed to the Libyan army attempted to take control of the centre of the city.
Libyan state media has said a further seven people have been killed in Benghazi during fighting over the last two of days of fighting.
A spokesman for the army was quoted as saying two soldiers had been killed in clashes in Buatni, another hotly contested area in Benghazi on the approach to the city's international airport.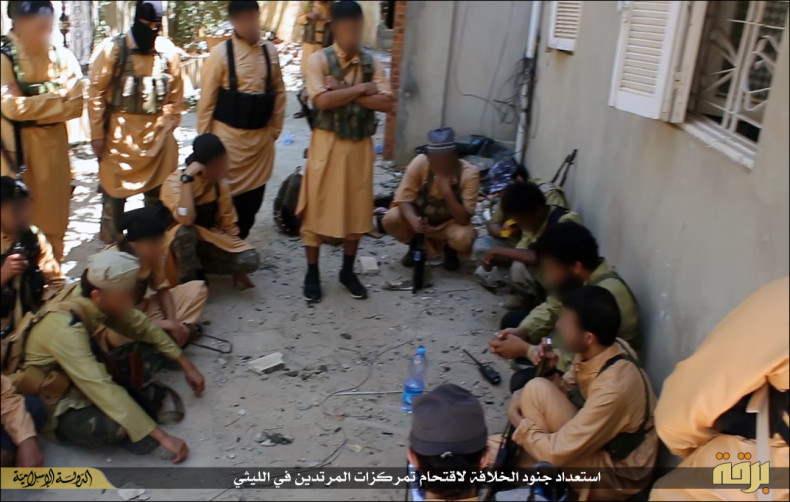 Five civilians have been killed and 17 injured in Beirut Street in east Benghazi's Bodema district after shells fell on a heavily populated area, the Libyan News Agency LANA reported. At least 23 civilians and soldiers were killed in three days at the outset of the clashes.
One Benghazi-based activist, speaking on condition of anonymity, told IBTimes UK that shells and mortars fired by Islamist forces fell on residential areas when they overshot Libyan Army positions.
He said: "In Benghazi right now we have some districts or areas where the clashes happen. In these areas the fighting never stops. Sometimes these shells reach the people. Imagine a street full of people shopping and then suddenly there is a mortar falling there."
The activist said IS was in the ascendency in Benghazi among the city's Islamist groups, which include Ansar Al-Sharia, an Al-Qaeda affiliate, and a number of other militias, remnants of Libya's revolutionary war in 2011.
He said checkpoints on Benghazi's main entrances and exits were manned often by foreign fighters who he claimed were with IS.
He added: "I believe all these groups have given allegiance to the Islamic State because there is virtually no Ansar Al-Sharia now; they have all converted to become Islamic State.
"Islamic State has franchised its ideology and fighters began joining it here at the beginning of this year. As the period of this conflict has worn on, more foreign fighters have come to Benghazi."
Daily fire fights, civilian casualties, bombings and shelling have become the norm in the city as the Libyan National Army, headed by its controversial leader Khalifa Haftar, a former Gaddafi general, attempts to wrest control of Benghazi from the Islamist militias.
Following months of a gruelling campaign of street by street fighting by Haftar's forces, the Libyan Army now controls the east and centre of Benghazi but revolutionary council forces still remain ensconced within traditional Islamist districts in the east.