'Isis looted' Syrian Ottoman ceramic bound for Russia seized in Finland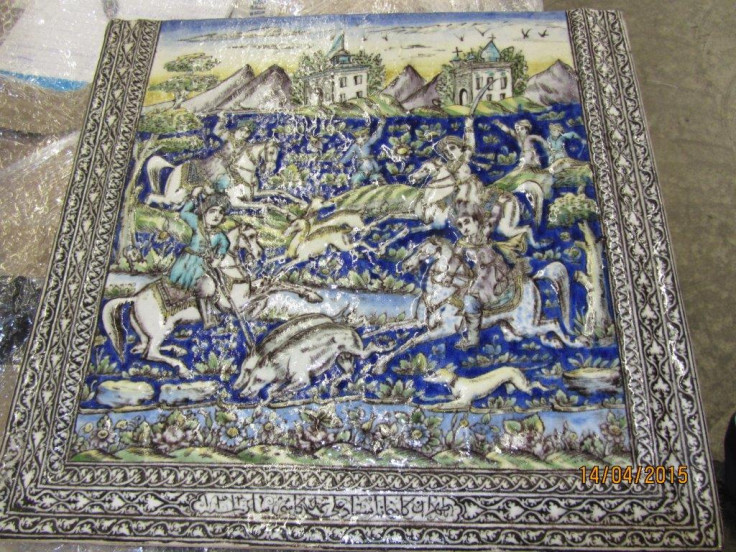 A 15th century Syrian artefact was retrieved by Finnish authorities as it was being smuggled across the border to Russia, in what detectives said was the first known piece of art looted in the war-torn country to be trafficked through the Scandinavian country.
Finnish Customs authorities said they seized the ceramic plaque in April during vehicle controls on the eastern border.
Believed to be an Ottoman pottery dating back some 650 years, the blue-coloured piece depicts a hunting scene on a rural background.
Finnish Customs anti-crime unit chief Hannu Sinkkonen told IBTimes UK officers found it among other items loaded in the cargo of a small Russia-bound transport company truck.
"The paper said it was coming from France but our officers examined the plaque and realised it was made in Syria," Sinkkonen said, adding he believed it was the first time pillaged Syrian antiquities had emerged in Finland.
Many of Syria's historic treasures have been plundered since the country erupted into civil war in 2011.
Looting has significantly increased throughout the conflict, with militant groups systematically targeting museums and archaeological sites to sell stolen artefacts on the black market.
The Islamic State (Isis) terror group, which has infamously destroyed precious and culturally significant antiquities it considers un-Islamic, is reportedly engaged in the lucrative smuggling business.
Given the systemic dimensions of the problem, in February the UN banned all trade in artefacts from the region.
"Pillage of Iraq's and Syria's culture has reached an unprecedented scale," said Unesco director general Irina Bokova. "It fuels the conflicts by providing revenues for armed groups and terrorists."
Finnish media reported that the Ottoman ceramic had been smuggled out of Syria by IS, but Sinkkonen told IBTimes UK they had no evidence of that.
Finland's national broadcaster Yle said it was destined for a Russian antiquities collector.
Sinkkonen said they were aware of the identity of the sender but could not provide further information pending an investigation, which was also to ascertain if the plaque is original or a counterfeit.
The truck driver, a Finn, is not a suspect in the case as detectives believe he was not aware of the contents of his cargo.
Looted artefacts are mainly smuggled via Lebanon and Turkey to Europe. "Once it's in the EU it's a little easier to get false accreditation, so it can be imported 'legally', and moved on to the major centres like London and New York," archaeologist Michael Danti told the New Scientist.
Artefacts worth billions of dollars are believed to have been smuggled out of Syria in recent years.
© Copyright IBTimes 2023. All rights reserved.