The new leader of Isis – also known as Islamic State (IS) – is former physics teacher Abu Alaa al-Afri, who has been in charge since the wounding of the group's figurehead Abu Bakr al-Baghdadi in a coalition air strike in March (2015).
The claim was made by Iraqi government advisor Dr Hisham al Hashimi, speaking to Newsweek.
Hashimi said al-Afri [meaning 'face of the earth'] is a charismatic figure who is well-known by the militants, and ready to assume permanent command if self-appointed Caliph al-Baghdadi dies.
"After al-Baghdadi's wounding, he [al-Afri] has begun to head up Daesh [the Arabic term for ISIS] with the help of officials responsible for other portfolios," said Hashimi. "He will be the leader of Daesh if al-Baghdadi dies."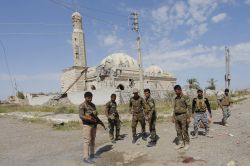 al-Baghdadi, whose broadcast from Mosul mosque in 2014 made him a target for the US-led coalition, is said to be unable to move following an air strike which hit his convoy on 18 March. The information was obtained by The Guardian from an Iraqic source with links to IS. The group feared Baghdadi would die and were forced to choose a leader to replace him.
News that al-Baghdadi has been replaced so smoothly from within the ranks of IS will come as a blow for the coalition, which has been targeting senior leaders within the terror group in an attempt to create a power vacuum.
Recently there have been claims that al-Baghdadi is little more than a figurehead for IS, with the real power held by shadowy figures including Haji Bakr. However, Middle East expert William McCants says al-Baghdadi won't be easily replaced.
"Isis's Shura council voted for al-Baghdadi for several reasons: his religious credentials, his supposed descent from Muhammad, and his tribal connections," McCants told Think Progress.
CIA Middle East expert Bruce Riedel also believes the loss of al-Baghdadi would be a huge blow for IS, which according to most reports is losing ground across Iraq.
"The position of Caliph requires the right family and tribal connections to the prophet Muhammad and credentials as an Islamist scholar," said Riedel. "That's much more complicated than finding another terrorist."