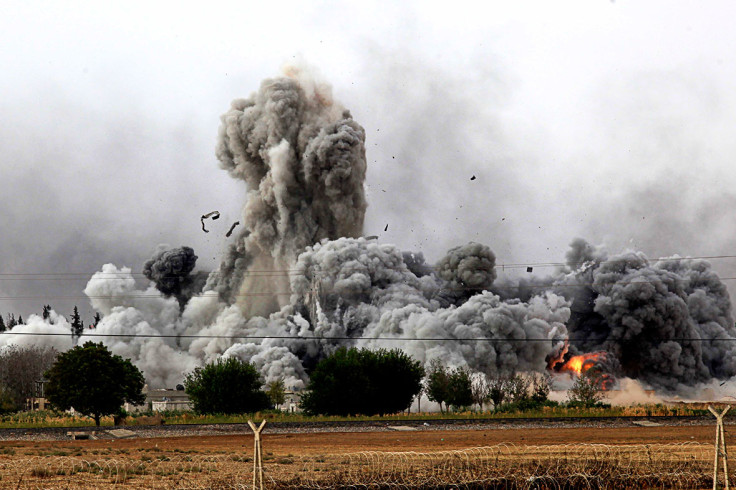 The U.S. led coalition in the Middle East have killed several very senior military leaders of Islamic State forces in Iraq in an expanding coalition effort over the last three weeks. (18 December)
The news was released by the Pentagon's top uniformed officer as the coalition launched 11 air strikes against Islamic State targets hitting six targets in Syria and five in Iraq.
Gen. Martin Dempsey, the chairman of the Joint Chiefs of Staff, said in an interview with The Wall Street Journal that three key Islamic State military leaders in Iraq were killed during operations between 3 and 9 December.
Abd al Basit, the head of Islamic State's military operations in Iraq, and Haji Mutazz, a key deputy to Abu Bakr al-Baghdadi, the leader of the group, were all killed during the American military airstrikes.
Mutazz, also known as Abu Muslim al-Turkmani, is described as one of Isis leader Abu Bakr Al Baghdadi's "closest and most senior aides," while Basit, also known as Abd al-Basit Inad Allah Mulla Gaidh, was considered the group's top military expert.
The strikes were designed to disrupt their ability to plan, coordinate and carry out their own attacks.
"It is disruptive to their planning and command and control," Gen. Dempsey said. "These are high-value targets, senior leadership."
In late November, another strike killed a midlevel commander, Radwin Talib, Islamic State's wali, or governor, in Mosul, Iraq, officials said.
Political analysts believe the operations are beginning to significantly weaken the group's leadership structure in Iraq.
Ahmed Ali, an analyst at the Institute of the Study of War, a Washington-based think tank that closely monitors the developments, said: "These are big hits and eliminating these figures always temporarily disrupts the organization."
While Islamic State are expected to take swift action to replace the leaders, defence officials claim that killing top military commanders is a critical part of weakening Islamic State ahead of a planned Iraqi counteroffensive next year.
Gen. Dempsey said that IS operates as a network of militants not as a nation-state, and must be approached as such in the battle to overcome them.
"It is in the context of how to fight a network," Gen. Dempsey said. "It is not a country. They have claimed it, but they are not. They are a network, so they have finances, they have logistics and they have leaders."
The latest U.S. led airstrikes are intended to help Iraqi forces isolate the city of Mosul, cutting off Islamic State's supply lines and establish supply lines for Iraqi and Kurdish forces.
"All these operations are with an intent to isolate Mosul," said a senior military official. "We are trying to set the conditions for the eventual operation in Mosul."
At a news conference at the Pentagon on Thursday, Lt. Gen. James Terry, the commander of the U.S. mission in Iraq and Syria, said that it will take a minimum of three years for Iraqi security forces to fully establish their capabilities.
The U.S. has conducted 1,361 airstrikes so far to support Iraqi operations.