Security forces in Saudi Arabia have arrested 93 members of Isis - also known as Islamic State or IS - in raids across the country, according to the interior ministry and official Saudi Press Agency.
Some of those detained - almost all of them Saudi nationals - were involved in plotting a number of terrorist attacks, including one which targeted the US embassy in Riyadh.
Two Syrians and a Saudi were reportedly planning to launch an attack on the embassy with suicide car bombs. That attack was foiled in March, when the US cancelled all consular services for a week.
Other IS cells were reported to be planning to attack military and residential targets across the country. According to Al Jazeera, some of those arrested were in possession of weapons and ammunition.
Earlier today (28 April), Saudi IS militant Nawaf al-Enezi was arrested following a shoot-out in which he was wounded. al-Enezi is suspected of killing two police officers in an attack earlier this month.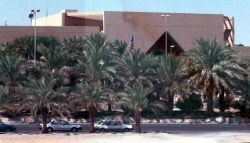 Officially, the Saudis have condemned IS, calling it a "deviant group" and saying its followers want to "undermine the security of this country".
Saudi Arabia is part of the US-led coalition against IS in Iraq and Syria, making it a potential target for the group. Former IS leader Abu Bakr al-Baghdadi, whose current fate remains unclear, called for attacks on the country's rulers, the Saud family, members of the Shia minority and Western expats.
In 2014, a Danish man was shot in his car in Riyadh and a Canadian stabbed in Dhahran. However so far the Saudi security forces have managed to prevent major attacks such as the one carried out by IS predecessor al Qaeda when it attacked a residential compound in Riyadh in 2003, killing 39 people.
Some international commentators have accused people within Saudi Arabia directly funding groups like IS - claims strongly denied by the kingdom. However the Saudis have played a major role in exporting a strict Salafi interpretation of Islam which has encouraged terrorists - indeed 15 of the 19 hijackers on September 11, 2001 were from Saudi Arabia.