Shocking new images have emerged showing Islamic State militants stoning a blindfolded and bound man and woman to death in Iraq.
The couple were sentenced to death for having sex before marriage.
A large crowd, including children and women, gather at the scene in the town square in Mosul in Nineveh province, to watch as the couple are murdered.
The bearded IS executioner-in-chief Abu Ansar al-Ansari pronounces the order of stoning for "fornication."
An Islamic State militant with a yellow scarf covering his face is seen using a microphone and PA system to read out the charges against the couple, as the crowd jostles for a better view.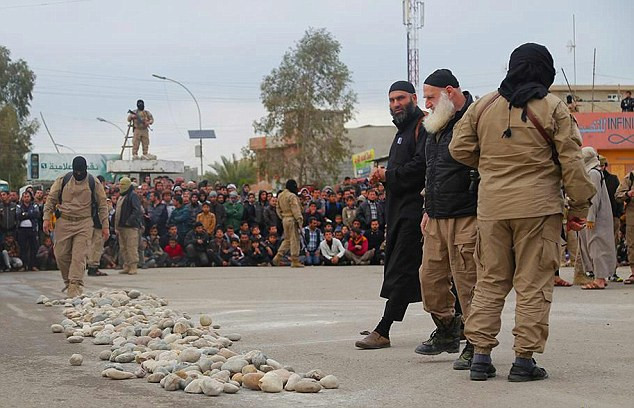 A large pile of stones are gathered in the middle of the road. The ISIS militants then begin throwing them at the blindfolded couple, whose hands are bound, rendering them unable to defend themselves and helpless.
Pools of blood appear in the road, before the man and woman finally die of their injuries.
IS fighters routinely carry out such horrific executions in accordance with their radical interpretation of Sharia law.
On March 24, thousands of protesters took to the streets in Kabul to demonstrate following the murder of a 27-year-old woman who was accused of burning the Koran.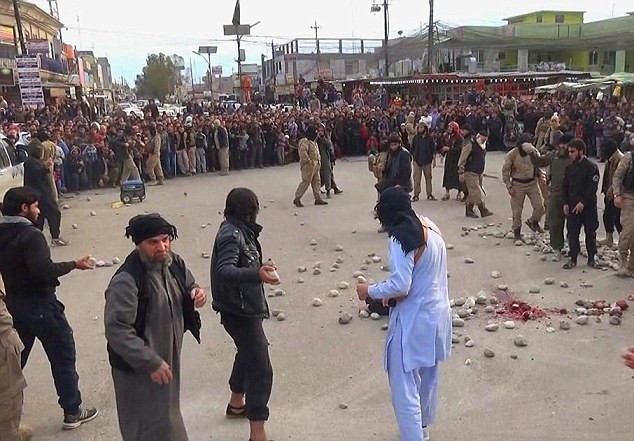 The victim, named only as 'Farkhunda' and who is believed to have been mentally ill, was lynched by a crowd of men near the Shah-e Doh Shamshira shrine and mosque after she was allegedly seen burning a copy of the Koran.
She was killed by the mob with sticks and stones on 19 March, before being thrown from a roof and run over by a car outside a local mosque. A graphic video of the murder was circulated on social media.
She was buried this week with women's rights activists carrying the coffin at a funeral attended by hundreds of people.