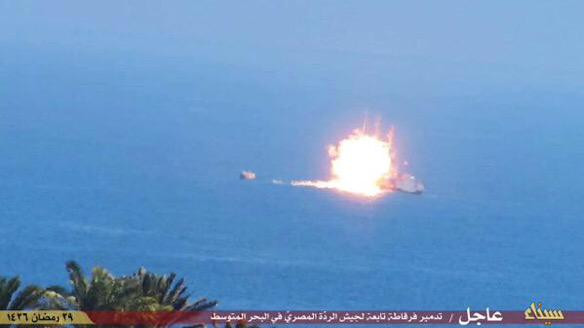 The Islamic State (Isis)'s offshoot in Egypt – the Sinai Province – claims it launched a rocket and destroyed an Egyptian Navy frigate in the Mediterranean sea.
The IS affiliate released pictures of what it said was a guided anti-tank rocket attack on the vessel off the coast of northern Sinai, in Rafah, an area bordering Israel and the Gaza strip. The Egyptian military said it exchanged fire with militants off the coast and the boat caught fire, but there were no casualties as result of the incident. It did not mention that the boat was destroyed.
An official IS statement boasted online that the naval attack was the first of its kind and the start of maritme operations in the Mediterranean. A witness, fisherman Abu Ibrahim Mohammed from Gaza, said the vessel was a gunboat that was sailing at a nautical mile off the coast when it caught fire – but the man did not hear the explosion. Later, he saw two smaller boats trying to extinguish the fire. A third boat came and towed the vessel away. He also heard gunshots.
The vessel was tasked with patrolling Egyptian territorial waters and has been used to move army and police personnel to Egypt. According to terror expert Charles Lister, IS probably used an anti-tank guided missile for the attack similar to the ones used in the Sinai.
IS has stepped up its operations in Egypt, killing at least 17 soldiers in a July assault. Last week, the group took credit for a bomb attack in front of the Italian consulate in central Cairo, in which one person was killed. Another IS attack killed Egypt's state prosecutor Hisham Barakat.