Isis in Syria: 1,500-year-old Mar Elian monastery bulldozed by Islamic State in Qaryatain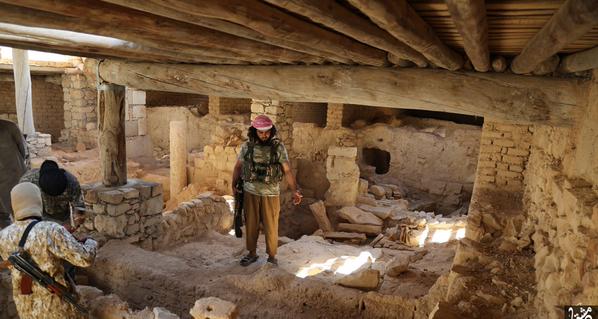 Islamic State (Isis) militants have bulldozed parts of the ancient monastery of Mar Elian in Qaryatain, a strategic town located in the central Syrian province of Homs which has been seized from forces loyal to president Bashar al-Assad earlier this month. IS-linked Twitter accounts posted pictures of the destruction of the monastery, which was founded in 432 on the claimed spot of St. Elian's death, for "worshipping a God other than Allah".
According to the UK-based Syrian Observatory for Human Rights (SOHR), IS also transferred dozens of Assyrian Christians, who were kidnapped after the capture of Qaryatain, near its northern Syria de facto capital of Raqqa.
Mar Elian is also the place where priest Jacques Mourad was abducted back in May. Mourad was known to help both Christians and Muslims and was preparing aid for the arrival of hundreds of refugees from Palmyra.
"It was an important pilgrimage site for the surrounding Christian community," Dr Nicholas al-Jeloo, an expert on Assyrian monasteries in Iraq from the University of Melbourne, told IBTimes UK.
Al-Jeloo said the tomb of the saint was from the 4th century but the structure was damaged by recent excavation and rebuilt recently in similar style.
The jihadist group captured Qaryatain, which lies south-west of Palmyra Roman ruins and 85km from Homs, after heavy clashes with regime forces. Then the group abducted about 230 Syriac Orthodox and Syriac Catholics. Of those captured, 48 have been released and 110 were transferred to Raqqa, according to SOHR. The Christians would be given the choice of conversion to Islam or paying "jizya", a tax on non-Muslims.
Earlier in March, IS blew up part of the ancient monastery of Mar Behnam in Iraq near the predominantly Christian town of Qaraqosh, south-east of Mosul. Photos released by IS members on social media show the 4th-century monastery's tomb complex of Mar (Saint) Behnam and Mart (Saint) Sarah reduced to rubble.The monastery was also founded in the 4th century and built on the tomb of Berhnam and his sister Sarah, who were converted to Christianity by St Matthew. IS fighters stormed the monastery in July 2014 and expelled its resident monks.
"They're doing this gradually. They scared the people away and now they're destroying these people's heritage. I don't understand: why would you do that? Why destroy something it's not yours?," al-Jeloo said. "No palace, monastery, church, ruins is ours to destroy. It's the world's property. That's why I'm concerned the world's community is not doing enough to stop Isis."
In March, an IS-linked Twitter account posted pictures of what appears to be jihadists smashing crosses and defacing statues, Christian murals and paintings at St George Chaldean Catholic monastery near Mosul. The monastery, located on the Ba'werah neighbourhood on a hill north of Mosul on the other side of the Tigris river, was founded by the Assyrian Church of the East in the 10th century but rebuilt as a seminary by the Chaldean Catholic Church in 1846.
Also in March, IS militants reportedly bulldozed the 2,000-year-old city of Hatra, and the Nimrud archaeological site near Mosul. On 26 February, the jihadist group published a video showing militants destroying artefacts in a Mosul museum and at the Nergal Gate to ancient Nineveh.
© Copyright IBTimes 2023. All rights reserved.