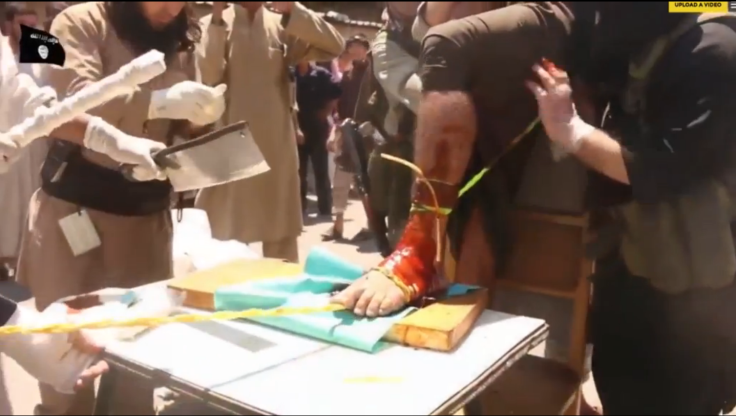 Terrorist organisation Isis has released a new video portraying its gruesome interpretation of punishments fixed in the Koran. Two men, accused of attacking herders and stealing livestock and vehicles, are seen as they have their left foot and right hand amputated by Islamic State militants.
The brutal footage reportedly from Homs, Syria was shared online by Isis supporters, who claimed the two were armed as they committed their crimes.
Mimicking previous punishment videos, the latest propaganda footage shows the fighters and their victims surrounded by hundreds of local men and young boys, the Daily Mail reported. The four minute-long video starts off with a bearded fighter announcing the first man's name and his alleged crimes.
According to the Daily Mail, Isis jihadis are seen escorting the man to a small table and covering the his foot in what appears to be red antiseptic solution before cutting it off. After the man's foot is bandaged up, the same is done to his right hand before it too is chopped off.
The man's arm is seen quickly being wrapped up by one of the fighters, before he is driven away in an ambulance. The alleged criminal does not seem to be under anaesthesia, but he also does not cry out in pain.
The Daily Mail reported that the video was shared under the title "Implementation of Hadd on two evil doers," a reference to a fixed type of punishment in the Koran. It comes a day after images emerged of Isis fighters reportedly killing four men in Iraq convicting of being gay by throwing them off the rooftops of high buildings.