Isis Tells Iraqi Christians: Convert, Pay 'Jihad Tax' or Face Death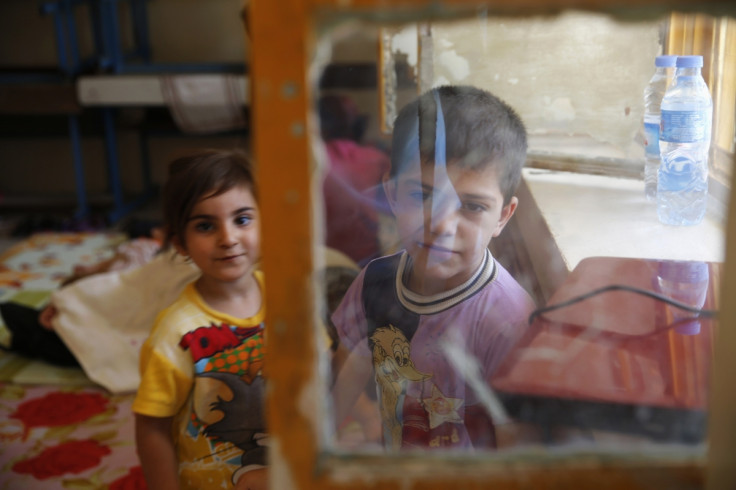 The ancient Christian community of Mosul, in northern Iraq, are facing renewed threats after being told by Isis, now known as Islamic State, they must pay a tax, convert to Islam, or leave to avoid "death by the sword". Many have already chosen to flee the city after Isis militants began marking their homes.
Isis is establishing a "caliphate" across northern Iraq and Syria, in which all citizens must abide by traditional Islamic Sharia law. One of these is the "dhimma," where non-Muslims pay a "jizya" (fee) for protection if they do not wish to convert to Islam.
In a statement read out at Mosul's mosques, Isis said: "We offer them three choices: Islam; the dhimma contract - involving payment of jizya; if they refuse this they will have nothing but the sword."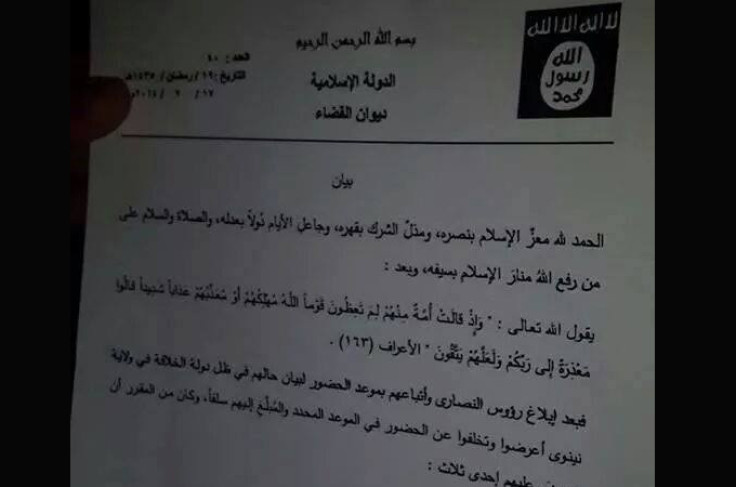 The document obtained by Al Jazeera which warns Iraqi Christians that they must convert or face death.
Al Jazeera
Most of Mosul's Christians have already chosen to leave for safer areas in neighbouring Kurdistan, said one of Iraq's most senior Christian clerics, Patriarch Louis Sako.
He added:"Christian families are on their way to Dohuk and Irbil. For the first time in the history of Iraq, Mosul is now empty of Christians."
Mosul used to have a Christian population of around 60,000, before the 2003 US invasion.
That number had halved by June 2014 but since the arrival of Isis most remaining Christians have fled.
Isis militants have reportedly gone from house to house daubing the letter "N" – which stands for "Nassarah", the Koranic term for Christians – on homes.
Isis acted similarly in the Syrian city of Raqqa, where Christians were ordered to hand over gold or be killed.
The Syrian Observatory for Human Rights reports that two women were stoned to death for adultery in Raqqa this week.
Human Rights Watch (HRW) says Isis are attacking all minorities across the region, not only Christians.
Middle East Director Sarah Leah Whitson said: "Being a Turkman, a Shabak, a Yazidi or a Christian in Isis territory can cost you your livelihood, your liberty, or even your life."
Shia Muslims have borne the brunt of the Isis onslaught, claims HRW, saying in a statement: "ISIS has summarily executed Shia captives several times in Iraq, for example killing soldiers en masse in Tikrit, 180 kilometres north of Baghdad, after taking that city on June 11. It reportedly killed at least 40 Shia Turkmen, including children, in four communities near the city of Kirkuk, about 100 kilometres southeast of Mosul, on June 16."
The United Nations is also accusing Isis of war crimes, including child abduction, rape and summary executions in northern Iraq.
UN High Commissioner for Refugees António Guterres said Iraq risks "full-fledged sectarian war and complete fragmentation", adding that political leaders must "seize this last chance to bring everyone together in a non-sectarian approach. Otherwise, we risk a true sectarian war".
© Copyright IBTimes 2023. All rights reserved.