Turkish President Recep Tayyip Erdogan has lashed out at claims his country is doing business with, and is sympathetic to Isis - also known as Islamic State - and is purchasing oil from the terrorist group. Erdogan, still seething at Russian claims that a jet shot down by Turkish fighters was given no warning, says IS are actually selling oil to Syria's President al-Assad - meaning Russia are indirectly supporting the group, despite claiming to be out to destroy them.
There have long been claims that Turkey not only tolerate Isis, but allow them to operate within Turkey and move freely across the border with Syria. Some Western commentators have pointed out that Isis are not only fighting forces loyal to al-Assad, but also the Kurds - with whom the Turks have a long and turbulent history. However, the claims that Turkey buys oil from Isis appear to have touched a nerve with Erdogan, desperate to retain his place as a key mover in the region.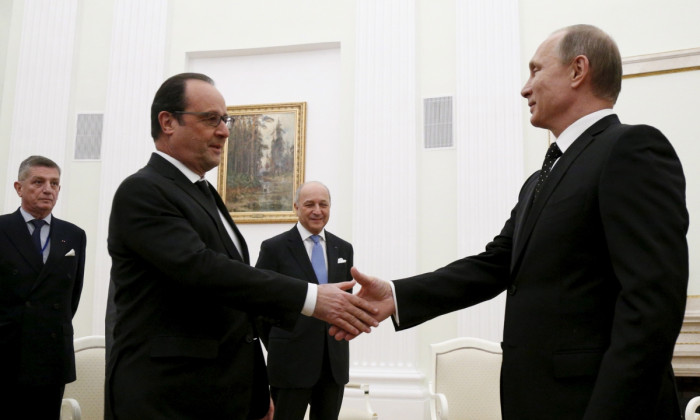 "Shame on you. Those who claim we buy oil from Daesh are obliged to prove it. If not, you are a slanderer," Erdogan told local officials in a speech at the Presidential Palace in Ankara. "ISIL sells the oil they drill to Assad. To Assad. Talk this over with Assad you support," he added, making a dig at Russia which has sided with al-Assad to the consternation of many in the West.
Putin claims to be targeting IS, but Turkey says Russian bombers have been bombing the Turkmen militia trying to fight al-Assad. The US has also criticised Russia for apparently targeting moderate rebel groups. However, Russia is adamant it is fighting Isis and is part of the war on terror - claims repeated by Putin today in a meeting with French counterpart Hollande in Moscow to discuss the international response to the Paris attacks and the growing threat of IS across the world.
How best to deal with Isis, Assad and the Syrian conflict continues to create as many political problems as military ones. In Britain, Labour leader Jeremy Corbyn has told his MPs he cannot support air strikes on Syria, leading to predictions of shadow cabinet resignations. In a letter circulated to all Labour MPs, Corbyn wrote: "I do not believe that the PM today made a convincing case that extending UK bombing to Syria would meet that crucial test. Nor did it satisfactorily answer the questions raised by us and the Foreign Affairs Committee."