Universities across America are being rocked by increasingly pitched battles over student resolutions calling for divestment in companies doing business with Israel. The campaigns have been hit with charges of anti-Semitism which in turn trigger accusations of free speech intimidation, pitting students — and even faculty — against one another.
A push for divestment by supporters of Palestinian rights is the new darling of a segment of US universities and activists. It's the same tactic students used to press college administrations to divest in companies active in South Africa during apartheid.
This time, though, there are student factions and and organisations battling fiercely for both sides of the issue.
The campaign against Israel — often referred to as BDS for boycott, divestment and sanctions — has been debated for years on US campuses, beginning in 2002. But divestment resolutions have made notable gains in the last several months, particularly in California, where seven of the ten schools in one of largest public university systems in the US passed such declarations.
A turning point year
"This was a turning point year," Jewish Vote for Peace spokeswoman Naomi Dann told IBTimes UK. She attributes the West Coast success of the resolutions to activist, progressive California campuses and the disturbingly large Palestinian civilian death toll in last summer's Israel-Gaza conflict.
It remains to be seen what kind of impact the resolutions will have. They're only advisory and so far haven't apparently resulted in any actual divestment by university administrations.
"As far as noise — decibel level — and media interest, it's grabbed a lot of attention, but it really hasn't been effective," said Abraham Foxman, national director of the Anti-Defamation League. He points out that the issue is being seriously debated in only a fraction of the thousands of US universities, with resolutions winning in only a fraction of those.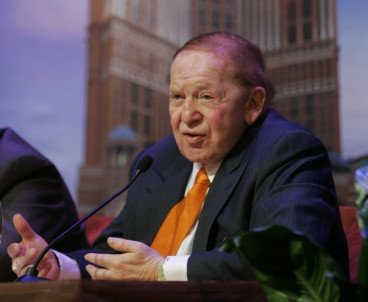 "But I take it seriously," he adds. "I worry about the impressions, the images of this generation of college students who will become our teachers, our politicians, our business people. This is a battle for hearts and minds."
The California momentum has been a "wake up call," said Max Samarov, senior researcher for the organization Stand With Us, a pro-Israel nonprofit organisatin that fights BDS campaigns. "This is a time to think about strategy."
US Jewish business and philanthropic leaders met last month in Las Vegas to talk strategy. The meeting was hosted by casino tycoon Sheldon Adelson — a major backer of Israel Prime Minister Benjamin Netanyahu — with a key organising push over the last year by Hollywood billionaire and major Democratic contributor Haim Saban.
Saban has reportedly been speaking to Israeli officials about setting up a special task force to deal with American campus calls for divestment.
Canaries on a mission to expose BDS supporters
A newcomer to the anti-divestment battle is the shadowy Canary Mission, an organisation posting online "dossiers" on activists fighting for Israeli divestment. The idea is that employers can check the files and opt not to hire one of the activists. A video on its Facebook page asks for help so that "today's radicals are not tomorrow's employees."
Targeted individuals include a current employee of the American Civil Liberties Union, and a Muslim student member of the UC Board of Regents. Groups, including the Jewish Voice for Peace, are also targeted with dossiers.
The "database was created to expose individuals and groups that are anti-Freedom, anti-American and anti-Semitic in order to protect the public and our democratic values," states the group's web site, which asks readers to also donate "profiles."
The site doesn't identify who's behind the operation or who works for the site — only that it's run by "students and concerned citizens galvanised and motivated by our mission to protect the universal values of freedom and democracy." Nor does Canary Mission offer "spoken media interviews."
Anti-Zionist, anti-Semitic or both?
"It's annoying to be called anti-American and anti-Semitic because I'm a Jew who supports Palestinian rights," said one of the individuals profiled on the site who asked that his name not be used. "They're trying to intimidate."
The Times of Israel recently carried a blog by a high school junior, Zachary Kolodny, who decided to "turn myself in" to Canary Mission. "I consider myself a Zionist but I disapprove of the way Zionism has been carried out," he writes.
"I disapprove of the censorship in our community over Israel. This blacklist of college-aged activists is the pinnacle of this censorship."
Charges of anti-Semitism particularly infuriate divestment supporters. They argue that the label is being used to kill debate. A clone Facebook account also called Canary Mission (with the canary upside down in the logo) features an animated drawing of what appears to be a student wearing a headband with the words Palestinian State and a sticker saying "anti-Semitism" slapped across his mouth.
"Because we're Jews we see our role speaking out for justice as particularly important because what Israel is doing is being done in our name," said Dann.
While Samarov believes the majority of divestment supporters are motivated by compassion in responding to a "deceptive" campaign for justice, many organisers aim to "eliminate the Jewish state," which he believes is profoundly anti-Semitic.
Foxman agrees. He sees criticism of Israel as perfectly acceptable but not to "demonise" the nation with the aim to eliminate it. "That's when it crosses the line," he adds.
Even some divestment supporters concede that debate over the issue can sometimes provide "cover" for anti-Semitism. Hate-crime vandalism recently rattled both the Stanford University campus (which voted against a divestment resolution) and UC-Davis (which supported a resolution) amid pitched debates over divestment.
Swastikas were spray-painted on buildings at both schools, including one on a Davis Jewish fraternity. School administrators declared the attack an "affront to us all."