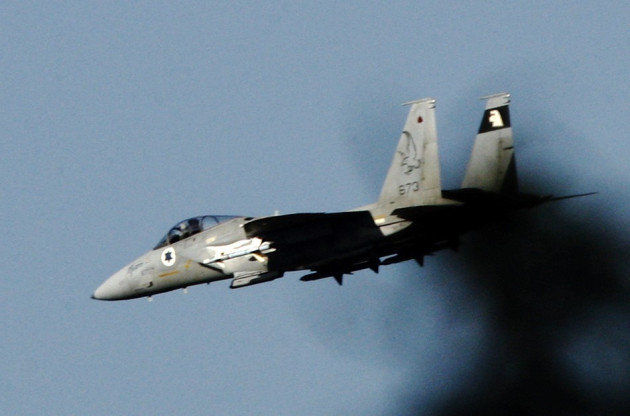 The video of an Israeli fighter jet crashing into a flock of pelicans and making an emergency landing before catching fire has been released by Israeli Defence Forces.
Shortly after taking off from the Tel Nof Airbase central Israel, the pilot of an F-15 jet is warned by his navigator of the presence a big flock of "storks" undetected by the base radars.
The jet turns left to avoid the birds, but the pilot has just the time to correct his navigator on the specimen - "They are pelicans, not storks," - before crashing into a second unnoticed bigger flock.
"There is fire in you engine," the navigator then shouts. "The left engine has gone out!"
The pilot keeps his temper and asks to clear the runaway to get back to the airbase. The only other option for him would have been to eject with his navigator.
After the landing the duo reportedly jumped out the jet moments before it went up in flames.
IDF subsequently launched an investigation on why the flock had not been noticed by the airbase staff that includes bird watchers and ecologists.
The incident happened in October 2011 was caused by communications' delays and misunderstandings between the base's staff, according to an IDF inquiry.
Undetected bird flocks pose a serious threat for aircrafts. In 2009 a US Airways Airbus famously made an emergency landing in New York's Hudson River after striking a flock of Canada Geese.
Previously, the Arab media has accused Israel of using animals to undermine them.
In 2010, Egypt claimed that a series of shark attacks in the Red Sea could have been the result of a plot carried out by Israel's foreign intelligence agency, Mossad.
Last year, Saudi Arabian officials "detained" a vulture on accusations of being a spy for Israel. The griffon vulture was carrying a GPS transmitter bearing the name of Tel Aviv University, prompting rumours it was part of a "Zionist plot".