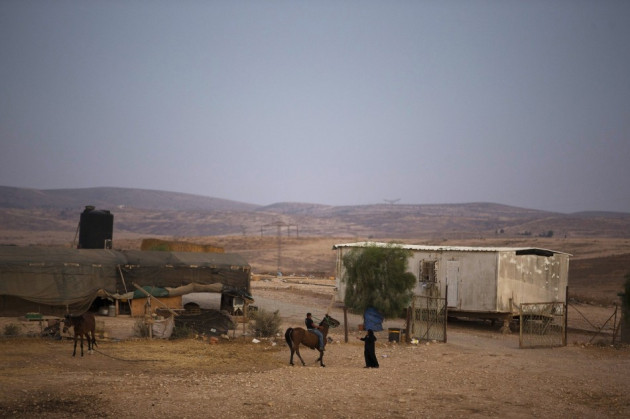 The Israeli government has Okayed the demolition of a Palestinian Bedouin village in the desert Negev region to make room for a Jewish settlement, despite protests by residents and NGO groups.
A special cabinet meeting session at the Ben-Gurion heritage institute in Sde Boker in the Negev, approved construction plans for Hiran and Kassif Jewish communities, following demolition of the Umm al-Hiran Bedouin village.
Prime Minister Benjamin Netanyahu approved the decision saying that it will accomplish the vision of Israel's first Prime Minister David Ben-Gurion. The cabinet meeting session took place on the fortieth anniversary of Ben-Gurion's death.
Ben-Gurion called the Negev "Zionism's final frontier".
Netanyahu said that Ben-Gurion "very much wanted to achieve" the purpose of colonising the whole Negev.
Umm al-Hiran, which houses 500 residents, was set up by the Bedouin al-Qia'an tribe in 1956 after a decade-long dispute with Israel. The Bedouins had been evicted by Israeli soldiers from their homes in the north-western part of Negev, near Kibbutz Shoval, following the 1948 Palestinian exodus, known as Nakba.
Umm al-Hiran is not officially recognised by the Israeli state and lacks infrastructure and electricity.
The planned settlement includes about 2,500 housing units and its population will be formed by religious and secular communities. The Bedouin residents have been asked to accept several other places to live, but they have refused, calling Israel's treatment "discriminatory".
Villagers and NGO activists demonstrated outside the cabinet meeting and four were arrested by police. The Supreme Court is expected to rule on an appeal filed by Umm al-Hiran against the planned eviction.
Member of Knesset Michal Rozin has condemned the government's decision. "There is plenty of land to settle in the Negev," Rozin said. "Unwarranted harm to a weakened population does not strengthen the Negev and certainly does not strengthen Israel."
The Israeli Society for the protection of nature is also opposed to the government's planning decision. "The development of new communities, which includes the construction of housing and infrastructure, damages the area, reduces the amount of open space, interrupts the continuity of open spaces and leads to the destruction of habitats as well as ecological damage," a statement issued by SPNI read.