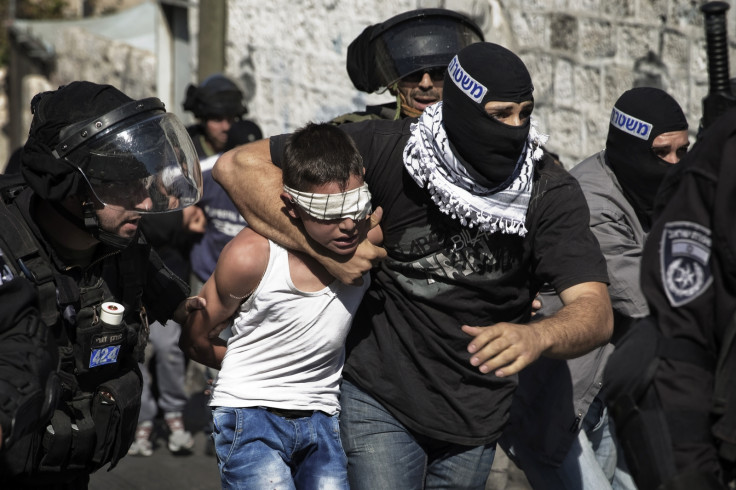 Children as young as 11 were subject to beatings and coercive interrogations say Human Rights Watch.
The New-York based organisation condemned Israel for its treatment of Palestinian children that stripped them of their rights in contravention of Israeli law.
"Israeli forces' mistreatment of Palestinian children is at odds with its claim to respect children's rights," said Sarah Leah Whitson, Middle East director for Human Rights Watch.
"As Israel's largest military donor, the U.S. should press hard for an end to these abusive practices and for reforms."
The Human Rights Watch report is based on statements made by several children who allege being choked by Israeli security forces, grenades lobbed at them, as well as interrogation without the presence of parents or lawyers. The youngsters were also made to sign confessions in Hebrew, a language they did not understand.
Israeli forces arrested Malak Al-Khatib, 14, near the village of Beitin in the West Bank on December 31, 2014, her parents said. Malak's mother told Human Rights Watch "four soldiers beat her with something like a baton" during the arrest until she lost consciousness. "While on the ground, they kicked her and one soldier stepped on her neck."
In another instance, an 11-year-old boy Rashid S, said that Israeli border police forces officers threw a stun grenade (a non-lethal explosive device that produces a blinding light and intensely loud noise causing loss of balance) at him and put him in a chokehold when they arrested him for throwing stones.
Since April 2015, 164 Palestinian children from the West Bank were held as detainees, according to the Israeli human rights group B'Tselem.
Two of the boys interviewed by Human Rights Watch said they urinatined on themselves because they were so scared when they were arrested. Three out of the four children said they suffered nightmares and continued to have difficulty sleeping after their release.
"Israel has been on notice for years that its security forces are abusing Palestinian children's rights in occupied territory, but the problems continue," Whitson said. "These are not difficult abuses to end if the Israeli government were serious about doing so."