Israel: US tourist killed and others wounded in series of attacks as Joe Biden arrives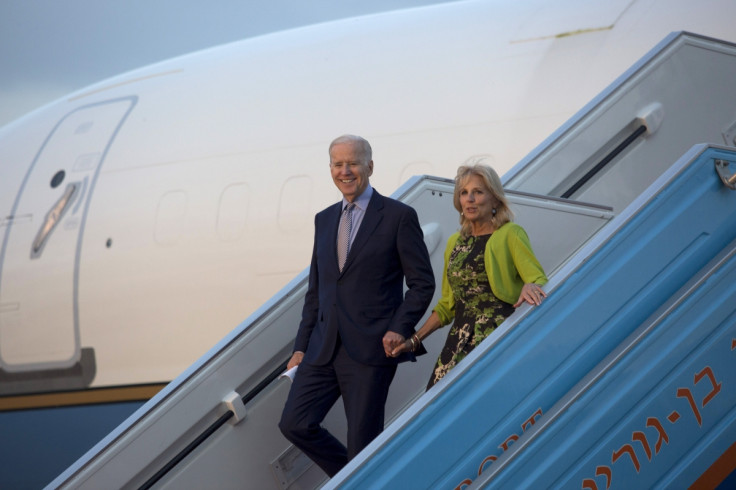 An American tourist was killed and several others wounded in a series of attacks by Palestinians targeting civilians as well as Israeli security forces. The incidents took place on 8 March in Jerusalem's Old City, in Jaffa, south of Tel Aviv and in the central city of Petah Tikvah, Israeli police said. Three Palestinians attackers were shot dead by Israeli security forces.
The attacks coincided with the visit of US president Joe Biden to the Jewish state. Biden is on a two-day visit to the country to hold talks with Israeli Prime Minister Benjamin Netanyahu and Palestinian President Mahmoud Abbas.
In a statement issued following his arrival, the vice president's office expressed sorrow at the tragic loss of American life and "condemned in the strongest possible terms the brutal attack." The statement added: "There is no justification for such acts of terror."
In the latest stabbing on 8 March night, an unidentified American tourist was killed and 10 others wounded in a popular oceanfront boardwalk in Jaffa. Israel Police spokesman Micky Rosenfield said the attacker was killed and tweeted a picture of the knife used in the stabbing. Israeli police said the attacker was a 21-year-old man from a West Bank Palestinian refugee camp.
In another incident, Rosenfeld said that a Palestinian woman in her fifties had attempted to stab Israeli security forces in Jerusalem's Old City before she was shot dead.
In a separate incident in Petah Tikvah, a Palestinian followed an Israeli into a shop and stabbed him in the neck. According to witnesses, the table was turned when the 40-year-old Israeli he attacked pulled the knife from his neck and used it to stab his attacker. The victim suffered multiple stab wounds to his upper body.
Another attack involved a Palestinian opening fire on Israeli police in Jerusalem before fleeing the scene. When police chased him, the attacker allegedly continued to fire at police until he was shot and killed, the Associated Press reported. Two policemen were seriously injured in the exchange of fire.
Amid reports of the attempted stabbing in Jerusalem's Old City, an image on Twitter appeared to refer to the Palestinian female attacker as a "women's day martyr". The image was shared by Greg Berger, a correspondent for Israel Radio. It was also retweeted by Yiftah Curiel, spokesperson for the Israeli embassy in London.
Al Qassam Brigades tweeted an image of the woman's passport with the message: "Israeli occupation forces execute Palestinian woman Fadwa Abu Tair, 51, near Bab Al Amoud in occupied Jerusalem." The tweet also included an image of people leaning over what appears to be a dead body, presumably that of the female Palestinian attacker.
At least 174 Palestinians and 28 Israelis have been killed in recent months as a result of increasing attacks against each other. Israeli authorities claim that most of the Palestinians were killed while carrying out attacks in Israel. Others are said to have been shot dead by Israeli forces during clashes or demonstrations.
NOTE:
This article was originally published with the headline: "Israel: Three Palestinians shot dead as US vice president Joe Biden arrives for talks" - it has since been updated to reflect the latest fatality and the number of Israelis injured in the attacks.
© Copyright IBTimes 2023. All rights reserved.