Israeli-Palestine Conflict: French Synagogues Attacked as Jews Lament Anti-Semitism Rise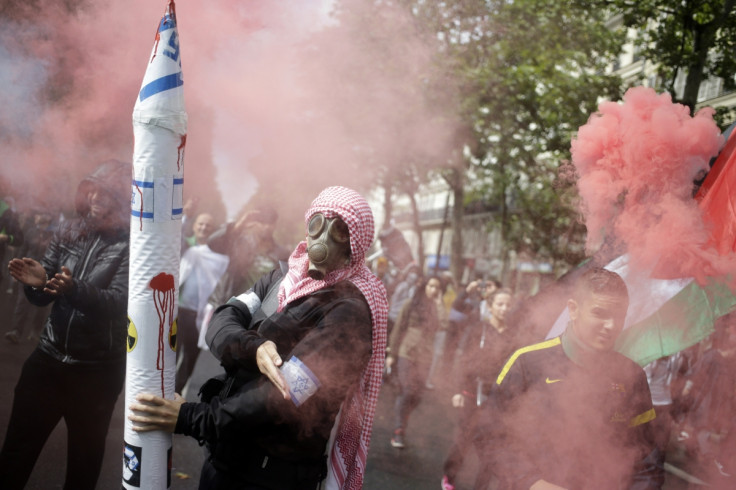 The ongoing Israel-Palestinian conflict has exacerbated communal tensions in France, which is home to Europe's largest Jewish community and Muslim population.
A synagogue on the outskirts of Paris was firebombed and two others attacked by violent anti-Israeli protesters in the capital's city centre over the weekend.
Prime Minister Manuel Valls condemned the acts and warned that the government will take strong action against extremists.
"Such acts targeting places of worship are unacceptable," Valls said. "France will never tolerate using violent words or acts to import the Israeli-Palestinian conflict on our soil."
Thousands of protesters took to the streets in the French capital and other cities to demonstrate against Israel's military operation in Gaza on Sunday.
In Paris, a crowd of about 10,000 people holding Palestinian flags and banners reading "Stop Killing Children," marched from the Barbès district to Place the la Bastille in what was a largely peaceful demonstration.
As the rally reached its end, however, small groups of rioters scuffled with police as they tried to force their way into two nearby synagogues.
The Union of French Jewish Students said that a mob of one hundred charged at 30 worshippers who were standing outside the synagogue Don Isaac Abravanel in rue de la Roquette.
Police intervened and pushed back the attackers who, armed with bats and chairs, attempted to break into the building.
According to a witness, the mob was also engaged by men from Jewish self defence groups, in what turned into a street brawl.
Some 150 Jews, who were taking part in a ceremony in commemoration of three Israeli teenagers killed in the West Bank, were trapped inside the synagogue until the street battle was over.
Two members of the Jewish community and six officers were slightly injured, police said.
Authorities said that also a second synagogue, in the nearby rue des Tournelles, similarly came under attack by a dozens of troublemakers.
Two nights earlier, a Molotov cocktail was hurled at a third synagogue in the suburb of Aulnay Sous Bois, northeastern Paris.
Anti-Racism group SOS Racisme said: "it is the responsibility of people living in France to rise above hatred. Support to Palestinians can't translate into hate towards Jews."
Even before Israel launched Operation Protective Edge against Hamas in Gaza, inter-communal tensions were on the raise in France.
In June, Jewish community leaders warned that a record number of Jews was leaving the country due to what they described an increasingly anti-Semitic environment.
More than 1,400 Jews emigrated in the first three months 2014, four times as many as in the same period in 2013.
Michèle Teboul, the chairwoman of the Representative Council of French Jewish Institutions, told The Times that an increasing number of anti-Semitic incidents, carried out mainly by second- or third-generation North African immigrants, had fuelled a sense of insecurity.
In 2012, four Jews - including three children - and three soldiers were shot dead in Toulouse by 23-year-old French Islamist Mohamed Merah.
Earlier this year, Mehdi Nemmouche a 29-year-old of Franco-Algerian origin, killed four people as he opened fire at the Brussels Jewish Museum in Belgium.
The economic crises and the growing support enjoyed by far-right parties have also reportedly played a role in persuading may Jews to leave France.
© Copyright IBTimes 2023. All rights reserved.