A wave of stabbing and shooting attacks has spread fear in Jerusalem and much of Israel. "The sense is that the entire country is the front line, and that everyone is a candidate for stabbing," Nahum Barnea, a columnist for the daily Yediot Ahronot wrote recently. The government has eased gun licensing procedures and public officials, including Jerusalem Mayor Nir Barkat, are openly carrying personal weapons and encouraging the public to do the same.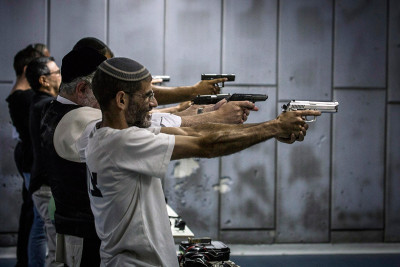 Jerusalem has been the focal point of the violence, where Jews and Arabs in every corner of the city have begun looking over their shoulders, fearing the violence could hit them too. Vendors in the usually bustling Mahane Yehuda market have complained of a drop of some 70% in sales since the violence began. Mohammed Abu Sabih, a resident of east Jerusalem who sells produce at the Jerusalem market, said Palestinians in Jerusalem are warning each other not to walk around with their hands in their pockets so that no one suspects them of hiding a knife.
As the attacks have spread beyond Jerusalem, Israelis nationwide have stocked up on self-defence weapons, such as mace and guns, and shops have reported a dramatic spike in sales, emptying their shelves. The Rikoshet outdoor sporting company said massive demand has depleted its 40 branches of pepper spray. They are now importing it urgently and running a waiting list for anxious customers. There has been increased demand for batons, knives and other weapons.
The fear has sometimes turned into outright panic. An Israeli man stabbed a fellow Jew in an Ikea parking lot in northern Israel after mistaking his dark-skinned victim for an Arab. Many Palestinians in east Jerusalem have opted to remain at home, and Arab citizens of Israel have complained of being afraid to speak Arabic in public. A Palestinian living in Tel Aviv complained on Facebook that a neighbour had demanded in a letter to building residents that he be "checked out" in light of the security situation.
Those eligible for guns have been flooding arms shops. "There's huge interest in self-defence measures, whether it is gas, pepper spray or shockers. And of course in guns for self-defence," said Yair Yifrach, who runs a firing range in Givat Ze'ev, north of Jerusalem. "People are afraid, you can't ignore it."