Fears are growing in Israel that a "Third Intifada" may be underway after two weeks of violence in which at least 30 Palestinians and 7 Israelis have been killed. Today, (14 October) one Palestinian, who appeared to be carrying a knife, was shot dead as news crews filmed at the Damascus Gate in Jerusalem.
The footage, captured by NBC News, showed the man running down some steps brandishing something in his hand. Several people are heard shouting a warning before shots ring out and he falls. He then appears to be shot several times as he is lying injured on the ground. The death of the man was the second of a Palestinian at the same spot in the last few days.
Photographs allegedly of a knife carried by the man were distributed by police. Israel Police Foreign Press Spokesman Micky Rosenfeld said on Twitter: "Terrorist who carried out attack was 24 year old Arab resident of Ras al Amud in Jerusalem. Police patrolling public areas in Jerusalem." However, some Palestinian eye-witnesses told Bill Neely of NBC that the man posed no threat whatsoever.
In another day of violence in Israel, a 70-year-old woman was stabbed by what was described as an Arab man who was then shot dead by police. The woman's injuries are not thought to be serious. There has been a spate of apparently random stabbings by "lone wolf" Palestinians, several of which were captured on film.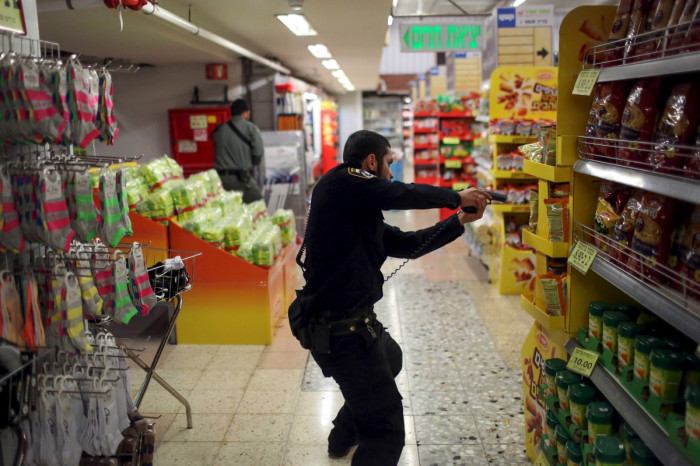 In response to the continuing violence police have been given authority to seal off some parts of East Jerusalem. Prime Minister Benjamin Netanyahu said the homes of people who carried out attacks would be demolished and residency rights revoked. Human Rights Watch said sealing off some areas would harm the whole Palestinian community. "Locking down East Jerusalem neighbourhoods will infringe upon the freedom of movement of all Palestinian residents rather than being a narrowly tailored response to a specific concern."
Palestinians, many of whom live in appalling conditions in Gaza, the West Bank and other areas, are also angry about Jewish "encroachment" at Al-Aqsa Mosque in Jerusalem. Al-Aqsa is sacred to Muslims and Jews and Palestinians want East Jerusalem to be the capital of a future independent state. There is growing concern that a third Intifada may be underway, leading to a surge in violence across Israel and the Occupied Territories.