'It was chaos': Inside DRC's Makala jail break where cult leader escaped and hundreds died
Prisoner exclusively tells IBTimes UK about mass escape from Makala maximum security prison in Kinshasa.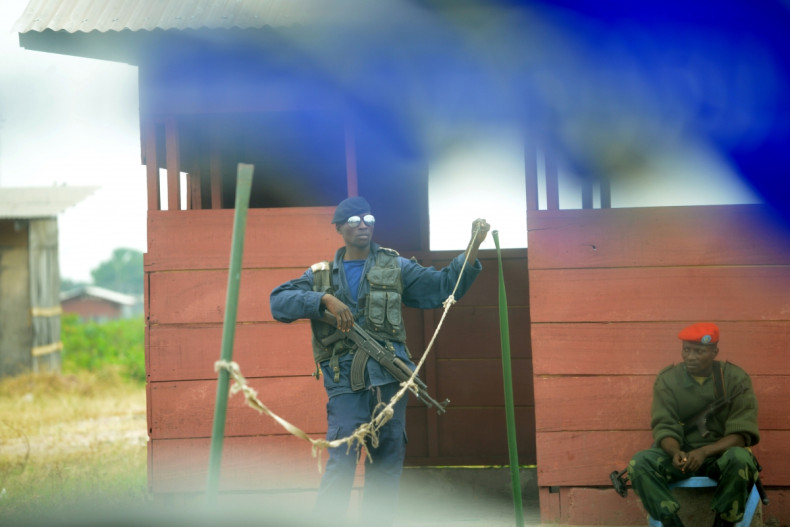 Heavy gunfire raged early Wednesday (17 May) as members of a religious political sect launched a mass jail break from the Makala maximum security prison in Kinshasa, the capital of the Democratic Republic of Congo (DRC). Around 4,630 inmates were said to have escaped and hundreds, including prison staff, died.
IBTimes UK spoke exclusively with a prisoner from Makala, who refused to leave his cell when suspected members of the Bundu dia Kongo (BDK) separatist movement attacked the prison in the early hours.
The BDK's leader and member of parliament Muanda Nsemi was freed by dozens of armed BDK members and "left a hero".
Officials said 50 inmates escaped but the prisoner said almost all of the cells were empty and 4,630 of the estimated 9,800 prisoners had fled.
"This is without counting the number of dead which now number in the hundreds, as well as prison staff who fell during the ambush of Ne Muanda Nsemi's men," the source said.
The prison director's office and police trucks were both set on fire.
According to the source, who spoke under condition of anonymity, the attack was predictable. "For some time now, there has been an increase in the number of arrests of young people, aged 18 to 30, in Kinshasa's outer suburbs. At least 80% here are young people," the source, who was handed a jail term earlier this year, explained.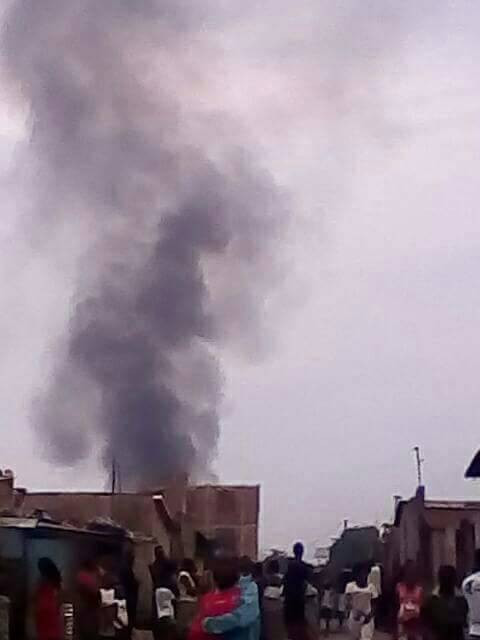 Smoke is seen rising from Malaka prison in this photograph taken moments after the jail break on 17 May 2017
IBTimes UK
"They are arrested for petty and trumped-up offences – vagrancy for example. No legal representatives are following their case. Some are sentenced to one month in jail but they end up staying there six months, a year, three years, because they were not able to pay considerable money to get out. Some have been asked to pay $10 to be freed, but when they cannot pay, they remain at Makala. It's not like in Europe when you are given bail."
Makala prison can accommodate 1,500 prisoners, but the source said that, prior to the jail break, there were some 9,800 men, women and children in the facility. According to prison officials, more than 7,000 inmates were held in Makala. "Up until 03.45am this morning, Malaka was over-populated, we started having people dying, of suffocation and hunger."
The source explained that, in some cells with a capacity of three or four prisoners, "there were 25 or 40 prisoners, to the point where some had to sleep standing up. You could not move, even to reach the sanitary installations. Everywhere was occupied."
In addition, the source described a lack of food at Makala. "People don't eat here. We are given 20 or 25 bean seeds mixed with maize and palm oil. Prisoners only eat once a day. If they eat early, it's at 19:00. There was a wide discontent, but they still continued to bring in more prisoners."
Nsemi, who was arrested at his residence along with his wife following a violent two-week stand-off with police who accused him of inciting violence, was imprisoned in Malaka in March, sparking the jail break.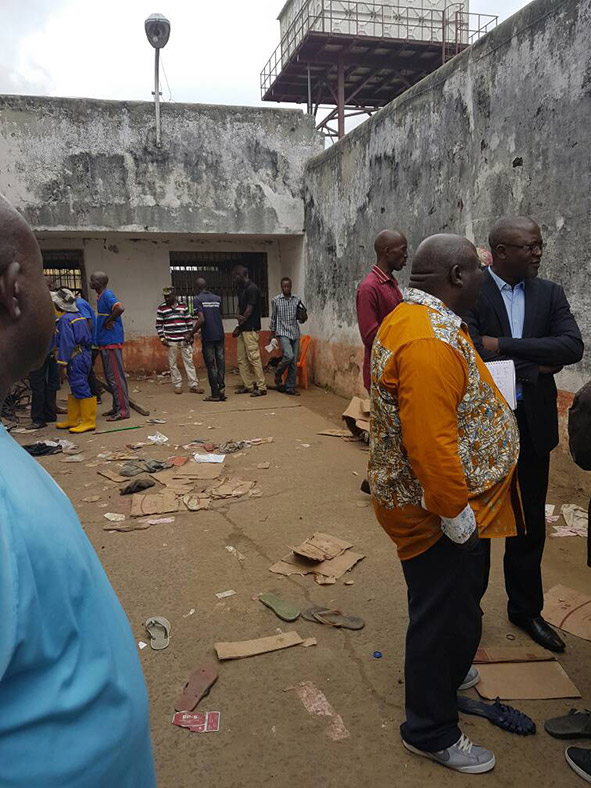 "When [Nsemi] arrived, prisoners started seething. Muanda Nsemi told his followers his place was not in prison, that he had to leave Makala and go home. But no one took that seriously." The source described how BDK supporters recently came near the prison, telling anyone who would listen that they would take their leader back home with them.
"Finally, today at 04:00 in the morning, a dozen people with red banners arrived and started firing. Police officers all fled. The attackers entered by the large door of the main entrance, and went to the back of the prison, where they started breaking down doors. They were telling people, 'Go on, leave'".
According to the source, the attackers started freeing prisoners from Pavilion 11, then moved to Pavilions 9, 7, 6, 4, 5, 3 and 2. The attackers freed Muanda Nsemi, "who left like a hero". Some 230 women from the Women's Pavilion escaped. "They all left." At Pavilion 10, which is reserved for minors, "everyone also left".
According to another source, the latest count in the late afternoon was that of 155 women in jail, 151 have escaped. Of 303 minors, only 165 remain in prison.
However, attackers did not break in Pavilion 8, where convicted war criminal Thomas Lubanga and Germain Katanga are serving their sentences. The prison source added: "They didn't touch that Pavilion."
They arrived at Pavilion 1, which houses several political prisoners including Franck Diongo (leader of the minor opposition MLP party), fellow opposition politician Jean-Claude Muyambo Kyassa (former chairman of the Lubumbashi Bar) and opposition figure Eugène Diomi Ndongala (a man accused of being a mercenary hired by opposition politician Moise Katumbi).
"We didn't want for the government to able to say the jail break was planned by Moise Katumbi. If we had left, they would have said he had financed it. We just observed."
The source confirmed that the prison director's office and its annex was burned, as well as "all the police trucks parked outside the prison". Prisoners were still escaping at 5.15am, but the source claimed that security forces only started intervening at 6am. "They arrived and found that some of the prisoners, like me, did not want to escape, but the prison was already at three-quarters empty." By midday eight out of 11 pavilions were empty.
"It was free-for-all and mayhem: people were killed, in the scramble to get out, and when they tried to leave in mass, the big barrier fell on them and killed many."
When asked whether he could establish the exact number of victims, the source, which was able to observe the consequences of the assault and jail break before returning to his cell, said: "The number of killed is impressive, considerable."
There is no official death toll yet. Reports from the BBC say that the Red Cross are already on the scene, removing bodies from the road.
"Followers of the Bundu Dia Kongo attacked Makala prison at dawn and broke out around 50 prisoners including their guru, Ne Muanda Nsemi," government spokesman Lambert Mende said, following the attack.
Established in the 1980s, the BDK secessionist group want to revive the ancient Kingdom of Kongo with its pre-colonial boundaries.