Italian Nurse Daniela Poggiali in Thumbs Up Selfies With 'Murdered' Patient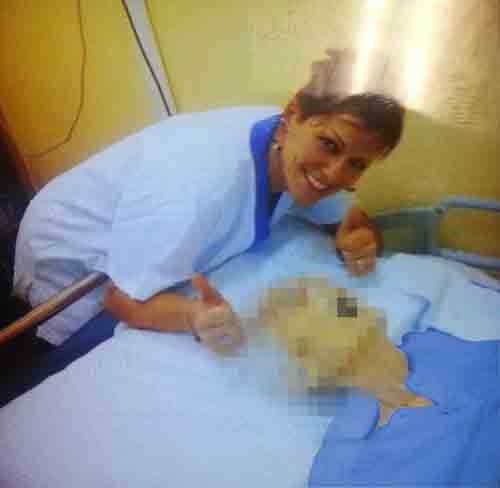 Sickening photos of a nurse, suspected of murdering dozens of patients, posing with thumbs up near an apparently deceased woman at an Italian hospital have emerged.
Daniela Poggiali was arrested in October after an autopsy on a 78-year-old woman in her care revealed dangerous levels of potassium chloride in her system.
The finding prompted an investigation into the deaths of another 37 patients who passed away during the nurse's night shifts over a four-month period.
Prosecutors allege Poggiali took pleasure in killing and administered "annoying" patients with abnormal amounts of potassium - a substance used to carry out the death penalty in the US.
Now, pictures of Poggiali posing with an elderly patient lying seemingly dead on a hospital bed have been leaked to the press.
In one photo, the 42-year-old from the north eastern town of Faenza stands over an unconscious woman, smiling with her thumbs up.
In a second picture she is seen lying opposite to the patient with her mouth wide open to mock her apparent passing position.
The photos were taken In January by a colleague of Poggiali who claimed she was pressured into doing so.
"She [Poggiali] was particularly euphoric and wanted to have a photo next to the dead body," the nurse told police, Il Corriere della Sera newspaper reported.
"I didn't have the courage to say no, as she is a vindictive person. She used to give laxatives to patients only to make life difficult for nurses on the next shift."
Both nurses were subsequently fired by the hospital in Lugo di Romagna, near Ravenna.
Poggiali is challenging the decision claiming the woman in the photos was alive. She also denies murder charges.