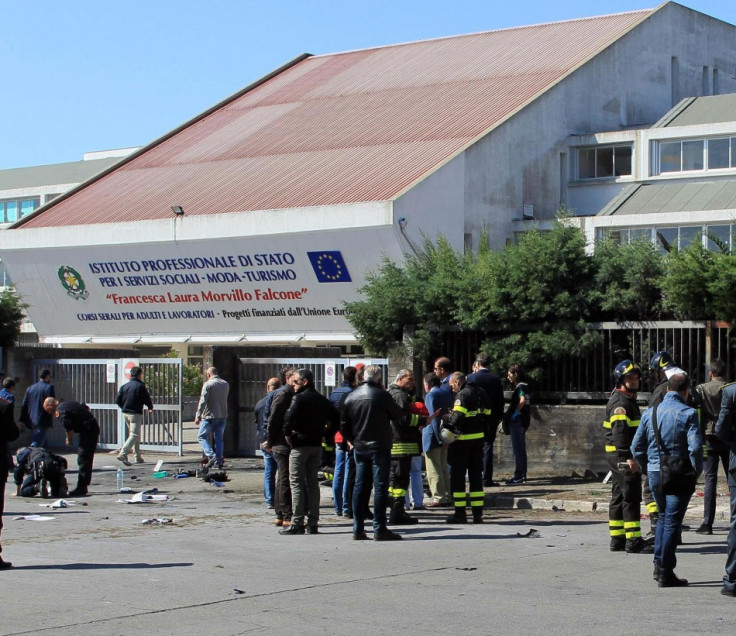 A bomb exploded outside an Italian high school in Brindisi, Italy, killing a female student and injuring at least seven others.
The blast took place around 8:00 a.m. local time on Saturday as the students were arriving at the Francesca Morvillo Falcone vocational high school. Italian public schools hold classes on Saturdays.
Officials reported that the victim, Melissa Bassi, was a 16-year-old girl. Another student is in crtical condition at a local hospital while several others have suffered various degrees of burns.
Police said that the blast was caused by three gas tanks placed near the school's entrance. Italian media reported that it's not clear yet whether the tanks had been linked to a timer or had been detonated remotely. What is certain is that the attack was timed to kill a large number of students because it happened shortly before the start of classes, when the area outside the school is crowded.
No group has claimed responsibility yet. Some suspect the mafia may be responsible because the attack took place at a school named after a magistrate who was killed along with her husband, anti-mafia prosecutor Giovanni Falcone, exactly 20 years ago, on May 23, 1992. Italy is planning to hold public ceremonies to remember the anniversary of their killing.
Falcone, considered the top mafia fighter in Italy, was killed along with his wife and three bodyguards in an enormous blast that devastated an entire section of highway near Palermo, Sicily, as his motorcade was passing. Falcone's whereabouts were a tightly guarded secret, which has led to suspicion that his murderers had accomplices in Italian intelligence or police.
Brindisi is in southeastern Italy, in an area where the Sacra Corona Unita crime syndicate, closely tied to the Sicilian Mafia, holds sway.
Still, Interior Minister Anna Maria Cancellieri said "this is an unusual type of attack, not typical of mafia warnings," adding that police are looking at all possible motivations.
Lawmakers of all parties roundly condemned the attack on Saturday. Several said the country must be vigilant against a possible return of the so-called "tension strategy" of the 1970s, when a spate of unexplained bombings and hundreds of attacks by left-wing and right-wing terror groups kept the country in a state of constant alert.
Italy has experienced in the past months economic crisis and political uncertainty as the government of prime minister Mario Monti, an unelected technocrat brought in with the support of president Giorgio Napolitano to restore credibility and fix the economy in the wake of former premier Silvio Berlusconi's downfall, tries to pass unpopular reforms meant to restore competitiveness.
On May 7, a top executive for a state-owned nuclear energy company was shot and wounded in Genoa, in Northern Italy, in an attack that brought back memories of the "years of lead," from the early 1970s to the mid-1980s, when terrorist groups killed and wounded dozens of executives they considered oppressors of the working masses.