Tragedy is unfolding in the clear blue waters of the Mediterranean on an almost daily basis, claiming the lives of over 1,700 people since early January – 800 of them in the last few days alone.
This isn't a war, a famine, or even a natural disaster – it is an entirely predictable humanitarian crisis that shows no signs of abating unless much more is done to save migrants as they attempt the perilous journey from the Libyan coast to southern Italy.
The staggering numbers of lives already lost in this tragedy - hundreds of them children - are due in large part to last year's decision to end Italy's search-and-rescue operation Mare Nostrum, which was replaced with a much smaller and cheaper European border control operation, Triton. With escalating conflict in Libya and the approach of warmer weather making the Mediterranean calmer, fatalities are sure to keep mounting unless the search-and-rescue operation restarts with the involvement of all EU countries.
I've worked in emergencies for nearly 10 years, but the countless stories I've heard this past week on the ground in Catania – especially from children – are some of the most heart-breaking.
These children – almost 8% of the total number of migrant arrivals in 2015, the majority of them making the journey alone – are fleeing some of the worst global crises in Syria, Somalia and Eritrea.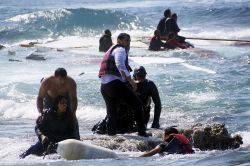 Before they even reach the chaotic and dangerous ports in Libya, they've already crossed deserts, where they faced hunger, dehydration, torture, abuse, and extortion. Those who manage to survive the first part of the journey often suffer from starvation, exploitation and sexual abuse at the hands of people smugglers in Libya to whom they've paid huge sums of money to reach the relative safety of Europe.
Children like Said, from Somalia, are among the 28 survivors of a recent shipwreck that is estimated to have been carrying 800 people – including at least 60 children. He told Save the Children that migrants are crammed in like sardines on boats, where they don't receive any food and water. The days at sea are unbearably hot and the nights cold, and there is no protection from the sun or rain. Said was travelling on the second level of a three-level boat, where those below him were locked in by key and the first to drown when their ship went down.

'One day Isis came over and brought black clothes and asked 47 people to wear them. Then, they took them to the sea. They also carried 10 minors, I was among them. I saw when IS shot them dead. We kept screaming'
Read Gianluca Mezzofiore's interview with an Eritrean teen migrant in Catania here.
We've also heard that some children have witnessed beheadings and murder, and many have had to endure the attempted journey to Italy more than once because of leaky boats or terrible weather conditions.
Another young Somali boy in Lampedusa told us that smugglers pushed people off the boat if they 'felt like it'. Racism, too, is rampant, with many African migrants placed in the holds of rickety boats, while those from the Middle East travel on the top deck. Where you sit depends as much on the colour of your skin as how much you have paid for the crossing.
This morning in Augusta, I again witnessed the arrival of 446 migrants, many of whom were visibly exhausted, weak, and traumatised from their journey. Yet most of the migrants we speak to say this is a small price to pay for the chance at a safe life. A young Syrian mother with three little children aged three, six and nine, was among them. After eight terrifying days on the boat in open water, she said she came to Italy simply because 'she wanted her children to live.'
'We are coming to escape hell'
So many children have told us they are coming to Europe to escape the "hell" they have left behind. We owe it to them to provide them with a chance at a better life.
The solution is staring us in the face: the European Union has an undisputable duty to establish and deploy a search-and-rescue mission of at least equivalent size, capability, and mandate to Italy's Mare Nostrum Operation within 48 hours.
Save the Children is calling for the mission to have a budget of at least €9 million per month, to employ a minimum of 900 staff, and operate with a comparable fleet to Mare Nostrum, including large boats capable of making rescues in rough seas with facilities for on-the-scene medical treatment.
Any further delays will mean that more children will drown in horrific circumstances, alone, terrified, and in the hold of a capsizing boat.
Sarah Tyler is head of communications, international programs, at Save the Children. Find her on Twitter @sarahatsave