The US and Russian top diplomats are due to meet for the first time on the sidelines of the G20 foreign ministers meeting in Germany on 16 February.
Rumours of the meeting between US Secretary of State Rex Tillerson and Russian foreign minister Sergey Lavrov were swirling for the past few days, and were eventually confirmed by a Russian foreign ministry spokesperson on 15 February.
But, according to the Kremlin, the two will stay clear of the topic of Crimea – the strategically important peninsula on the Black Sea that Russia claims as its own territory following the conflict in Ukraine.
"Russia does not discuss issues related to its territory with foreign partners," Kremlin press secretary Dmitry Peskov said at a news conference, quoted in the Tass news agency. Tillerson and Lavrov are instead expected to discuss the situation in Syria.
Peskov's statement comes in response to a statement read by White House press secretary Sean Spicer on Tuesday, 14 February. "President Donald Trump has made it very clear that he expects the Russian government to de-escalate violence in the Ukraine and return Crimea," Spicer said at a daily news briefing. "At the same time, he fully expects to and wants to get along with Russia."
Lavrov welcomed Tillerson's nomination back in December: "We expect that this pragmatism will be a good foundation for building mutually beneficial cooperation," he said. While Lavrov and Tillerson will reportedly be meeting for the first time, the former ExxonMobil CEO has close ties to Russia and President Vladimir Putin, with whom he brokered a $500bn oil exploration deal in 2012 , which won him the Kremlin's Order of Friendship in 2013.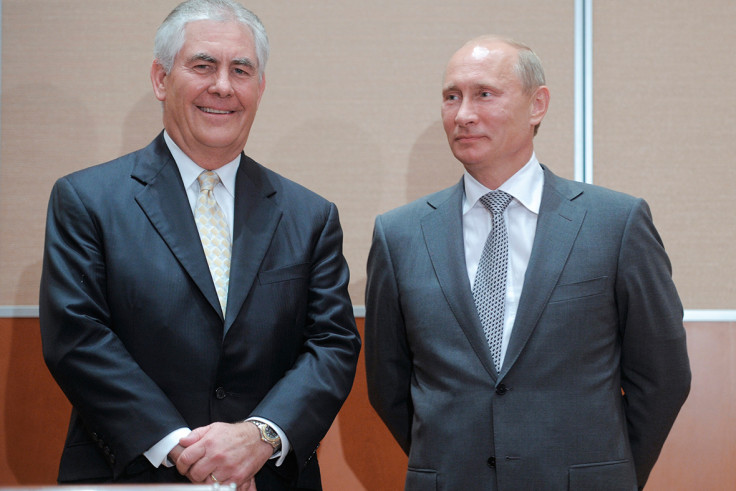 The deal was later blocked when the US imposed sanctions on Russia following its annexation of Crimea, which Tillerson vocally opposed as imprecise and ineffective. During the electoral campaign, Trump suggested "looking at" recognising Russia' controversial annexation of the Crimean peninsula in 2014 and lifting the sanctions.
White House national security adviser Michael Flynn resigned on 13 February after it emerged that he had held secret talks with Russia's ambassador in Washington over the sanctions before Trump was elected president.
Russia, who has a major naval base in Crimea, defends the legality of the peninsula annexation as the result of a referendum among the Crimean population, who are made up by around 58% of ethnically Russian people and a minority of Ukrainians and Tartars. A total of 97% of voters chose to join Russia at the ballots, but the US, who backed Ukraine in its conflict with Russia, disputed the validity of the vote.
The relationship with Russia is expected to be a key topic of discussion at the talk between Trump's defence chief Jim Mattis and the Nato allies on 15 February. They are growing increasingly concerned with Russia's actions in Ukraine, and strengthened the alliance troops presence to deter further moves from Russia.