It's Flappy Bird, Only Harder: Dong Nguyen Prepares to Release Swing Copters This Week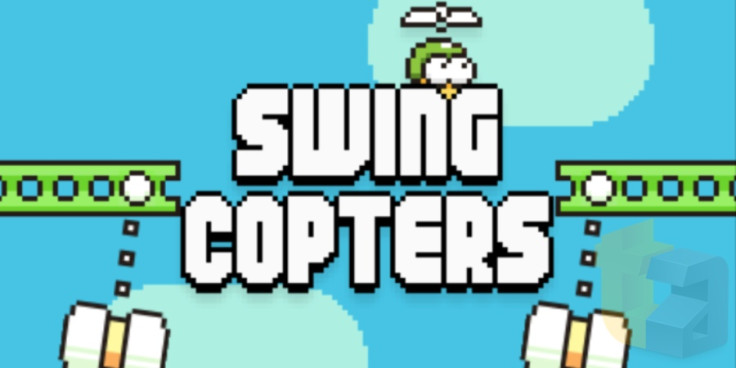 Vietnamese game developer Dong Nguyen shocked the world in February when he removed his hit smartphone game Flappy Bird from app stores because its huge popularity has ruined his simple life.
Six months on and Nguyen is back with his follow-up title called Swing Copters, a game which essentially takes the simple side-scrolling gameplay of Flappy Bird and turns it on its side.
The game, which is expected to be released this Thursday, 21 August, was played exclusively ahead of launch by the TouchArcade website.
The game replicates the simple graphical style of Flappy Bird, with you playing as a small character with a propeller on its head.
Tap the screen to begin and your character will fly off in one direction, tap the screen again to make him turn in the other direction. And that's effectively it.
Using these controls, you must guide the character upwards through a series of gates which are additionally protected by seining hammers.
In a short two-minute video posted on YouTube, the difficulty of the game is obvious, with Flappy Bird's one-more-try addictive nature likely to be replicated with Swing Copters.
Swing Copters, like Flappy Bird, will be free to download with players given he option of paying 69p to remove in-game ads.
Nguyen has since confirmed the game would be available on both iOS and Android
The business model worked well for Nguyen with Flappy Birds with the app reportedly earning up to £30,000-a-month from in-game advertising.
In the wake of Flappy Bird being removed, multiple clones took its place, recreating the simple graphics and gameplay and replacing the eponymous Flappy Bird with anything from bees to Miley Cyrus on a wrecking ball.
© Copyright IBTimes 2023. All rights reserved.